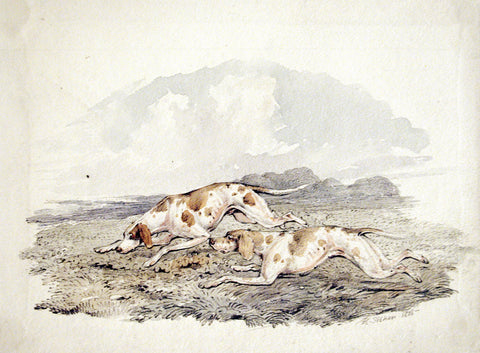 Henry Alken (British, 1785-1851) Two pointers in a landscape
Henry Alken (British, 1785-1851)
Two pointers in a landscape
Paper size: 5 x 6 7/8 in.
Signed and dated 1828
This picture is part of a superlative selection of sporting watercolors by the acclaimed British artists Samuel and Henry Alken. They were scrupulously assembled by the legendary early 19th-century collector and dealer Frank T. Sabin, and reflect the superb tastes and unrivaled eye of this most sophisticated connoisseur. As such, the present selection forms a group of outstanding original works by two renowned sporting artists.

Samuel Alken and his son Henry were the most prominent members of a successful family of artists, and two of the best-known sporting artists of late 18th and early 19th-century Britain. Samuel's parents had emigrated to England from Denmark, and he built his own artistic career to a great level of fame through his mastery of the quintessential British subject matter: the hunt. He entered the Royal Academy Schools, London, as a sculptor in 1772. In 1779 he published A New Book of Ornaments Designed and Etched by Samuel Alken, afterward establishing himself as one of the most competent engravers in the new technique of aquatint, and he won wide acclaim for his many sporting prints. Working in this genre, Alken became one of the most prolific and acclaimed British sporting artists of his day and passed his skills on to his son. Samuel was responsible for the early art instruction that set his son, Henry, on a path towards even greater recognition than his own. Henry received his training not just from his father, but also from the miniature painter J. T. Beaumont (1774-1851), an experience that endowed him with an accomplished graphic precision. He applied this skill to his flippant and anecdotal early paintings, etchings and watercolors of hunting, coaching, racing and other animal subjects. He was also employed by sporting periodicals as an illustrator, and provided plates for the National Sports of Great Britain (London, 1821), strengthening the market for his work in sporting circles, in particular the notorious clique of wealthy and reckless huntsmen who gathered at Melton Mowbray, Leics.

Both men produced a great body of work, from watercolors and oils to popular cartoons and fine lithographs and engravings. Their masterful compositions encapsulate the spirit of the hunt, and demonstrate their flawless depictions of horses, painted masterfully in various states of movement and rest. As the present selection of their extremely rare original work shows, these two versatile artists excelled in a variety of subject matter, sometimes making forays into more humorous genres.
---
We Also Recommend