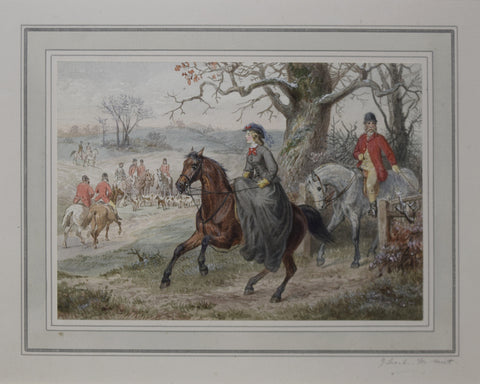 John Leech (1817-1864), The Meet
John Leech (1817-1864)
The Meet
Watercolor on paper
Paper size: 5 7/8 x 8 3/8"
Frame size: 24 x 20 1/4"
The English illustrator and caricaturist John Leech showed promise in drawing from an early age, though his long and acclaimed career as an artist was hardly preordained by his youthful activities. He was educated at Charterhouse School, Surrey, and entered St. Bartholomew's Hospital in London, to study medicine, where he showed aptitude in anatomical drawing. His family's bankruptcy in 1830 ended this career, and Leech was compelled to find work as an artist to support himself.
In 1836, Leech briefly studied at Versailles with a French caricaturist, being one of the few British artists to do so. Returning to Britain, he brought a new approach to social satire in the tradition of the French comedie humaine. His first productions in this style were a series of lithographs, published by W. Soffe as Droll Doings and Funny Characters (1836-8).With the revival of wood-engraving and the burgeoning of comic magazines in this medium, Leech learned to engrave from Orrin Smith and joined the staff" of Rentley's Miscellany in 1840. With the founding of Punch in 1841, Leech gradually established himself as the foremost artist of early Victorian pictorial satire. His work epitomized the change in taste from the savagery of Regency caricature to the gentler world of bourgeois domestic humor. His weekly Punch sketches provided a new freedom in execution and a vibrant view of the world that is an unerring barometer of Victorian trends and fashions.
Leech's most popular illustrations, however, were of sporting subjects, in particular hunting. In this engaging example, an elegant and fetching woman rides sidesaddle and looks off to her right, where a group of hunters and their dogs have congregated for the hunt. Leech's original works, however, are very rare, and his fame came primarily from their wide reproduction in publication. A wider public enjoyed his work through the numerous illustrations he contributed to novels, ballads, short stories and children's boob between 1840 and his death, most notably for Charles Dickens in A Christmas Carol (London, 1843-4), The Battle of Life (London, 1846), The Haunted Man (London, 1847-8) and volumes by such other Victorian writers as Douglas Jerrold, Mark Lemon and R. H. Barham. Leech also contributed extensively to illustrated periodicals, including The New Monthly Magazine, The Illuminated Magazine, The Illustrated London News, and The Field. His circle included such leading artists as Sir John Everett Millais, William Powell Frith and Augustus Egg, who were influenced by his scenes of everyday life.
This is a vivid work by this noted sporting artist, and it is all the more notable for having belonged to the legendary early 19th-century collector and dealer Frank T. Sabin. The high quality of this watercolor reflects the superb tastes and unrivaled eye of a very sophisticated connoisseur.
---
We Also Recommend