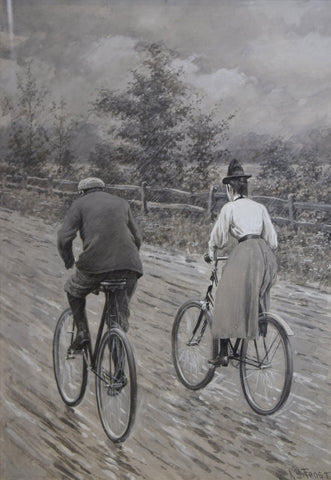 Arthur Burdett Frost (1851-1928), Two Cyclists on a June Afternoon
Arthur Burdett Frost (1851-1928)
Two Cyclists on a June Afternoon
Watercolor and pencil on paper
Signed, lower right "A. B. Frost"
Prepared for "Some Bicycle Picture by AB Frost" published in Scriber's Magazine, May 1898
Framed size: 34 x 26"
This evocative watercolor is an engaging work by the acclaimed American illustrator A. B. Frost. The subject is a couple bicycling quickly to escape a steady rain, and Frost has masterfully conveyed a sense of the gray autumnal atmosphere by employing a minimum of muted shades. The cold ambience of the fall day does not characterize the work as a whole, however, for the two cyclists give a sense of companionable intimacy in their shared purpose.
Frost embraced so many different genres that it is nearly impossible to relegate him to just one area, or even to characterize him as a master of one subject over another. During his long and celebrated career, he became a master of all subjects that he chose to undertake, ranging from sport¬ing scenes and still-lifes to portraits and cartoons. All of his works bear his lively and elegant touch, and his illustrations for "Uncle Remus" and "Alice in Wonderland" rank with n. C. Wyeth's illus¬trations of "Treasure Island" as the most important and memorable book illustrations in American History. His other illustrations were reproduced, normally as wood engravings, and published in such journals as Harper's Weekly, Scribner's and The Century, and it was in this manner that he became known to a wider public. Yet no published illustration can match the quality and immediacy of his original watercolors, which are quite rare. This particular work is especially charming: a superlative example of Frost's distinctive style. The companion work, A June Afternoon, is in the Library of Congress.
---
We Also Recommend