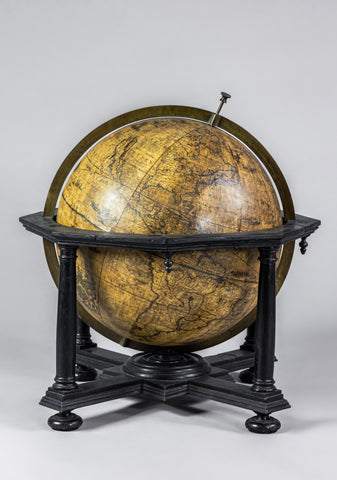 Vincenzo Maria Coronelli (1650 – 1718), Terrestrial Globe
Vincenzo Maria Coronelli (1650 – 1718) 
Terrestrial Globe 
London and Venice, dated 1696 
Diameter 19 in.; Height 24 in. 
The globe comprising two sets of 12 engraved gores, hand colored in outline, polar calottes, the image decorated with fanciful sea monsters, and images taken from travel accounts of Ogilby, Dapper etc. California is depicted as an island. With two dedicatory cartouches, one to Magellan, and the second to William III of Great Britain. The gores slightly browned and colors dimmed, the old varnish removed, the area around the south pole cracked and indented, the equator partially cracked. Brass meridian circle, engraved graticule to one face. The globe set in a late 19th century Dutch style stand, hexagonal horizon bar, unpapered, the horizon supported by four turned supports with thick crossstretchers, and central support at the center. 
A fine example of the 19-inch Coronelli library globe. This, the first Coronelli globe at 19 inches is particularly rare, being conceived and prepared on Coronelli's tour of Europe. After leaving Paris, he travelled to London in 1696, where he met King William III, to whom he dedicated this globe. In Coronelli's own account of his tour he describes this globe with a diameter of "une pied e mezzo" (48cm, 19 in.), which he had begun to prepare whilst he was in London. Coronelli rose from a monk in the Franciscan Order in Ravenna, moving to Venice to establish a geographical publishing house, and later became the foremost Geographical publisher and globe maker of the late 17th century. It all started when as a monk, he was commissioned to construct a pair of manuscript globes for The Duke of Parma in 1680. The French Ambassador to Italy, visiting the Duke, reported back to Louis XIV, who in turn summoned Coronelli to Paris, where he was ordered to construct the largest globes ever made …the Marly Globes, diameter 15 feet, with a small door for a person to enter. It took 3 years for the pair to be finished with the geographical image painted on canvas. On its completion in 1683, he returned to Venice and established his geographical enterprise in his old monastery. His fame spread widely and his work was in high demand from the Royalty and Noblemen of Europe. 
---
We Also Recommend