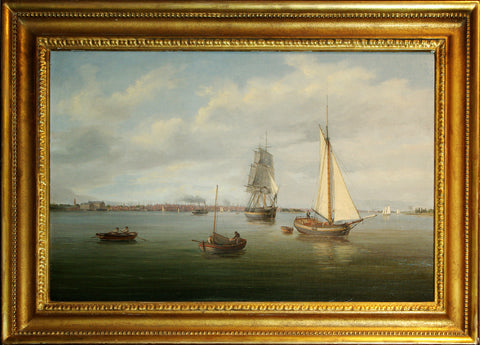 Thomas Birch (1779 - 1851), Philadelphia from the Delaware River
$ 475,000.00

$ 475,000.00
---
---
Thomas Birch (1779 - 1851)
Philadelphia from the Delaware River
Oil on canvas
ca. 1840
Inscribed on stretcher: City front Philadelphia Penna Delaware River Old Navy Yard in Distance
Canvas size: 18" x 27 1/4"
Provenance: E.L. Fisher; J. Welles Henderson; Exhibited: Philadelphia, Pennsylvania; Philadelphia Maritime Museum, Thomas Birch, 1779-1851: Paintings and Drawings, 1966


An Evocative View of Philadelphia from the Delaware River
This stunning river view of the Philadelphia City front was painted by Thomas Birch, one of the most important American landscape and marine painters of the early 19th century. Though Birch was not a sailor, and had little direct experience with boats, he made sufficient firsthand observation of his subjects to convey accurately not only the structure of boats but their refined beauty as well. He blends a close observation of details, exemplified in his ability to capture the intricacy of ship mechanics, with historical overtones that appealed to contemporary tastes and continues to resonate with modern viewers.
The sailboat in this serene painting catches the last rays of sun at dusk, which illuminate the sails of the craft so that they appear to emerge from the canvas. The soft light creates a sense of balance in the painting, as the eye of the viewer roams from each unique craft and rests on the softly lit sails of Birch's main subject. His sensitivity to the different ways in which light interacts with water, causing reflections and highlighting contours of the vessels he laboriously studied, is arguably what propelled Birch's career. By the time he painted this masterpiece, he was lauded as one of the most accomplished painters of his time; and he had carved a niche for the previously overlooked genre of Marine painting.
Throughout his prolific career, Birch painted a variety of landscapes, though his most accomplished works by far are hisseascapes. He first took up marine painting at the outbreak of the War of 1812, and immediately found an audience eager for depictions of battles at sea. Although he continued to paint landscapes, particularly with river views and country estates, many of his works from the second half of his career are naval scenes that reflect his mastery of the Anglo-Dutch tradition of marine painting. His mature work is characterized by a break from the rigid lines of his early paintings, with clear coloring and a clean palette that served well his desire to transmit the freshness of light and the fluidity of water that is evident in Philadelphia from the Delaware River. While many of these later compositions depict shipping on the Delaware and in New York harbor, he also executed a series of important canvases chronicling major naval engagements of the war. His seascapes depicting ships buffeted by storms along rocky coasts recall the compositions of Joseph Vernet, whose work Birch knew first hand, and those of Vernet's followers in England, such as Philippe de Loutherbourg.
Birch immigrated to America in 1794 with his father William Birch (1755-1834), a painter and engraver from whom he received his artistic training. The family settled in Philadelphia, where William, armed with letters of introduction from Benjamin West to leading citizens of that city, became a drawing-master. Early in their American careers both Birches executed cityscapes, several of which were engraved. Aside from stylistic affinities, the works of both father and son tended to emphasize the cultural progress and commercial prosperity of the young United States as well as its almost Edenic natural beauty.
Thomas Birch was a frequent exhibitor at the Pennsylvania Academy, where he served as keeper from 1812 to 1817, as well as at other artistic institutions in Philadelphia and New York. His paintings are considered some of the finest in the genre of landscape and marine painting, and his highly recognizable style is a successful union of classic Dutch painting and pure imagination.
---
We Also Recommend