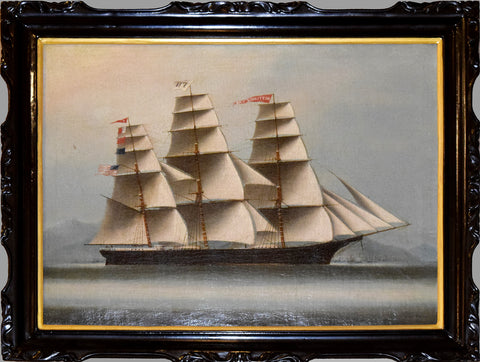 Chinese School, 19th Century The American Clipper Ship "Neptune's Car" in Hong Kong Harbor
The Only Large Clipper Ship ever Constructed in Virginia: 
one that played an important role in the Gold Rush
Chinese School, 19th Century
The American Clipper Ship "Neptune's Car" in Hong Kong Harbor
Oil on canvas
Canvas size: 17" x 22 3/4"
Frame size: 22 1/4" x 27 5/8" 
This is a splendid painting of the clipper ship "Neptune's Car" in Hong Kong Harbor in the mid-19th century, a classic marine "portrait" showing the vessel in profile with its sails fully rigged and pennants flying high. "Neptune's Car" had a long and illustrious history.
She was launched in 1853 from the yard of Page & Allen at Portsmouth, Virginia for Foster & Nickerson of New York, the only large clipper ship ever to be built in Virginia. This stately portrait was probably painted between 1855 and 1858, when she made commercial voyages to Hong Kong; more important, "Neptune's Car" was used to amass a fortune during the gold rush, sailing to and from California at the height of the boom. Though highly profitable, these voyages also proved to be risky. On one voyage, the ship was heavily damaged in a hurricane while rounding Cape Horn, and then during the Civil War the vessel was seized by the U.S. as a part-Rebel owned vessel when she arrived in San Francisco. In February of 1863, she was sold at auction in Liverpool, and eventually perished due to neglect, like so many other clipper ships from the time.
This is a masterful painting of "Neptune's Car." In the distance, hills rise above the misty, calm harbor, and the light suggests dusk or dawn. The landscape setting is more evocative and atmospheric than is usual for such naval portraits, indicating the skill of the unknown Chinese artist who executed this painting. Hong Kong was a bustling international port, and local artists found a niche in the lucrative market for naval paintings, many of them rivaling their European counterparts in skill. This striking oil represents some of the best work in naval painting to emerge from 19th-century Hong Kong, on a par with the best in Western marine painting, and it captures this important ship at the beginning of its history. This is a rare and magnificent glimpse of this splendid and significant clipper ship.
---
We Also Recommend