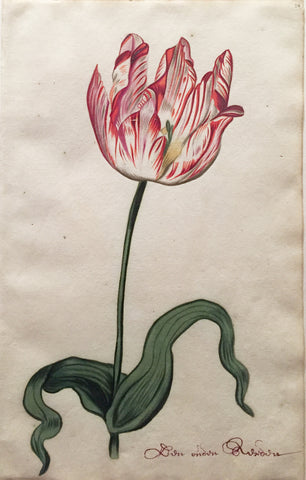 School of Anthony Claesz II (Dutch, 1607-1649), Tulip Study, Don ondon Rusidon
School of Anthony Claesz II
(Dutch, 1607-1649)
Tulip Study, Don ondon Rusidon
Watercolor and gouache on paper
Paper size: 12 1/8 x 7 1/2 in.
Framed size: 21 1/2 x 16 3/4 in.

The art of tulip illustration reached its height in the Low Countries during the seventeenth-century Tulipomania. As the demand for tulips blossomed, bulb dealers employed artists to paint likenesses of their precious flowers in auction catalogues, more commonly termed tulip books. Three of the most sought after painters were Pieter Holsteyn; Jacob Marrell, stepfather to Maria Sibylla Merian; and Anthony Claesz II. The skill these artists showed was emulated by other young painters who adopted their techniques of depiction.

This series of particularly fine watercolors are by the School of Anthony Claesz II and executed by an exceptionally gifted painter. Moreover, the artist's closeness to Claesz is illustrated in the coloring and overall depiction of the tulip. Claesz favored the portrayal of more pointed petals on his tulips and painted with a bronze-green palette. Typically, only one leaf was shown, peculiarly curled and folded concavely around the stalk. Little is known of Anthony Claesz II's life. He is often mentioned in the same breath as Anthony Claesz I, although the relationship between the two artists has not been fully established. What is not in doubt is that Anthony Claesz II is the more accomplished artist whose best works have a fine tonality, and compare very favorably with the contemporary bouquets of the Bosschaert brothers, Ambrosius and Abraham.
Please feel free to contact us with questions by phone at 215.735.8811,
or by email at loricohen@aradergalleries.com 
---
We Also Recommend