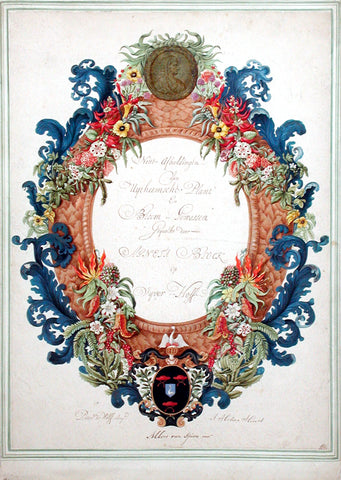 Albert Van Spiers, called Piramied (Dutch, 1666-1718), Design for a floral frontispiece with a portrait medallion of Agnes Block
Albert Van Spiers, called Piramied (Dutch, 1666-1718)
Design for a floral frontispiece with a portrait medallion of Agnes Block
Black chalk, watercolor and bodycolor heightened with gold and gum arabic
Signed: Albert van Spiers. invr
Inscribed: NetteAfbeeldeng/Van/UytheemschePlant/En/Bloem- Gesvassen/Gequeckt door -/AGNETA BLOCK/Op/Vyver - Hoffe and Pieter de Wolff Schript/J: Helena Herolt
Paper with mount size: 19 x 13 1/2 in
Frame size: 31 1/8 x 24 in
Provenance: John, 3rd Earl of Bute (1713-1792); W. Esdaile, his inscription and shelfmark Ld Bute's colln 1794 P48 N24 and number 24
Sam Segal, one of the leading experts on flower painting, has suggested that this spectacular drawing is the frontispiece to an album of drawings by Johanna Helena Heroldt, illustrating the exotic flowers bred by the wealthy Menonite, Agnes Block (1629-1704).  Block was one of the most important breeders of rare plants in the period and commissioned the leading artists of the day to paint specimens from her famous estate at Nieuwersluis on the Vecht, approximately 30 kilometers from Amsterdam.

Block corresponded with many directors of botanical gardens throughout Europe with the aim of collecting and exchanging seeds and bulbs with them.  Thus, she was able to build a stupendous personal collection of specimens which she commissioned artists to illustrate and record.  Among these artists can be found the names of Johannes Bronckhorst, Herman Henstenburgh, and Pieter Withoos.  But of most interest was Agnes Block's support of the female botanical illustrator, Maria Sibylla Merian, and her eldest daughter, Johanna Helena Heroldt, the author of the supposed contents of the book for which this frontispiece is from.  Heroldt' s work for Block was extensive with seven of her drawings purchased by Valerius Rover from Agnes Block's heirs and seventy more bought directly from the artist by Johannes Burmann, Professor of Botany at Amsterdam University.  A further forty-nine numbered drawings, which may be from a similar series to the one for which the present drawing is a frontispiece, are in the Herzog Anton-Ulrich Museum, Brunswick.

The watercolor here presented is by Albert van Spiers (1666-1718), a painter of ceiling pictures and overmantels who had studied with Gérard de Lairesse and in Rome.  His facility for the decorative is exquisitely displayed in this complicated representation that combines the fanciful with detailed and elaborate representations of floral garlands. The profile of Agnes Block, depicted at the top of the frontispiece, is taken from a portrait medallion struck by J. Roscam, a copy of which is held by the Centraal Museum, Utrecht.  The Block family coat-of-arms appears at the bottom of the wreath and the drawing is inscribed by her step-son Pieter de Wolff.
Please feel free to contact us with questions by phone at 215.735.8811,
or by email at loricohen@aradergalleries.com 
---
We Also Recommend