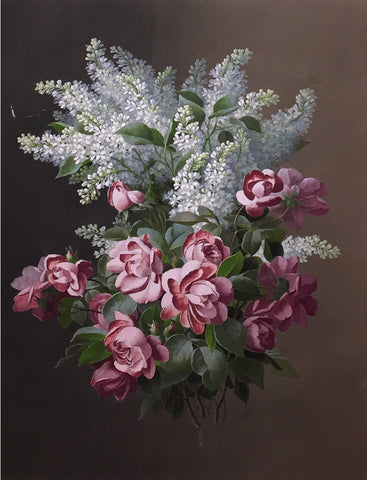 Raoul Maucherat de Longpré (French, 1843-1911), Bouquet of Pink Roses and White Lilacs
Raoul Maucherat de Longpré (French, 1843-1911)
Bouquet of Pink Roses and White Lilacs
Watercolor and gouache on paper
Signed lower right of center: R M de Longpre
Paper size: 26 3/4 x 20 in
Framed size: 36 3/4 x 31 in
Raoul de Longpré was the older brother of the well known still life artist Paul de Longpré, who ultimately immigrated to the United States and settled in Los Angeles. It is interesting to note that the works of these two artists are often confused, and their familial ties remained uncertain for many years, with some scholars surmising that Raoul was Paul's uncle, others his younger (as opposed to older) brother. On several occasions, paintings that bear Raoul's signature have been ascribed, by experts, to Paul. It is the opinion of several art scholars that the highest truth about their close relationship lies in the likeness of their exquisite floral watercolors -- evincing a high degree of scientific knowledge and decorative ability.

Both Raoul and his brother Paul were born into the aristocratic, although not wealthy, Maucherat de Longpré family of Lyon, France. The sons of Jean-Antoine-Marie-Victor and MarieThérèse Pinchaud Maucherat de Longpré, both began their careers painting flowers as patterns for the textile mills that proliferated in Lyon, which at the time was a center for the European silk industry. It is thought that the brothers were both living in Paris to further their artistic careers during the late 1870s. Paul moved to the United States in 1890, and it appears that Raoul continued to live in France.

A specialist in floral still lifes, especially informal arrangements, Raoul's works were popular with important collectors and galleries.  His paintings can now be found in many museum collections, including the National Museum of American Art in Washington, D.C. Raoul's gouaches often show roses or lilacs combined with roses or other blooms. His paintings were done in several compositional types: newly cut flowers arranged on a stone ledge, floor or table, or strewn at random, and bouquets that appear to float in the air. This striking watercolor is an example of the third category, and an excellent example of Raoul's ability to infuse his floral subjects with a vivid sense of freshness and vitality, capturing the subtle beauty of translucent petals with delicate modulations of color and of light and dark.
Please feel free to contact us with questions by phone at 215.735.8811,
or by email at loricohen@aradergalleries.com 
---
We Also Recommend