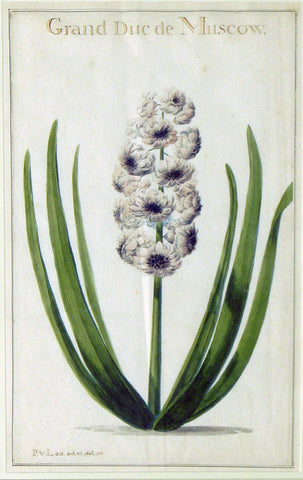 Pieter van Loo (Dutch, 1731-1784), Grand Duc de Muscow
Pieter van Loo (Dutch, 1731-1784)
Grand Duc de Muscow
Watercolor on paper
Signed and dated lower left: P.V.Loo ad. vi, del, 1774
1774
Paper size: 27 3/4 x 21 1/8 in

HE HYACINTH IN THE 18TH CENTURY

In the seventeenth-century, florists were so preoccupied with tulips that few took interest in another magnificent import: the hyacinth.  Those that did tout this robust breed preferred the single varieties, which conformed to the period's preference for symmetry of form and purity of color.
 
By 1684 Haarlem "florist" Peter Voorhelm began work to develop double-flowering hyacinths. In 1702 his 'Konig van Groot-Brittanje' (named after William III) scored great success and drew exceptionally high prices. Voorhelm's success spurred others to develop more new varieties, which, in turn, challenged and subsequently replaced the primacy of the tulip. By the 1730s a "wind trade" in hyacinths similar to that of "Tulipmania" contributed to the prominence of hyacinths which lasted through both the eighteenth and nineteenth centuries.
 
There are several reasons which underlie the popularity of hyacinth in the 18th century. First, its association with Madame Pompadour.  She was greatly enamored with this species and encouraged Louis XV to buy many of these bulbs, and others, when additions were made to their gardens between 1745 and 1765.  This fad extended to other garden enthusiasts in France and throughout Europe. Bulb flowers were used to decorate the great halls of palaces and graced the attire of ladies who wished to embellish their plunging necklines with the gorgeous and costly blooms of the latest novelties in hyacinths and tulips.
 
Second, Peter Voorhelm's grandson, the Harleem botanist George Voorhelm, likely motivated by the need to sell more bulbs, wrote an eight-point treatise Traite de jacintes (A Treatise on the Hyacinth), 1752, on the unique characteristics of the plant:
 
1) After the winter the hyacinth shows itself the harbinger of spring.
2) Its smell is to be praised.
3) The single-flower hyacinth shows a perfect bouquet at its branch.
4) The hyacinth is faithful (unlike the tulip), only seldom does the color change from blue toward white.
5) The hyacinth does not degenerate in fifty years (unlike the carnation, which is worthless after four or five years, and the anemone after twenty).
6) It can be grown without difficulty at either end of Europe.
7) Its flowering can be advanced at an earlier time (up to three months), either in earth or water.
8) The hyacinth is less commonly known.
 
This treatise was wildly popular and published in a number of languages in 1753, which was in effect a catalog with cultivating instructions, listing 244 double and 107 single varieties offered by his firm.
 
Our splendid works are closely aligned in style and size to the Choix de Jacintes, which Pieter Van Loo completed with Cornelis van Noorde (1731-1795) between 1765 and 1769, now in the collection of Oak Spring.  Pieter van Loo was born in Haarlem in the Low Countries and spent the remainder of his life there. He was a member of the city's Painters' Guild where he was officially registered as a 'painter of flowers' although he is also known to have designed tapestries for the Troost van Groningen factory. Van Loo's most significant masterpieces are watercolors for the Choix de Jacintes.  

This manuscript dedicated to the hyacinth plant is considered by many to be the apex of this Dutch artist's oeuvre and was once owned by Prince Charles de Rohan, one of Madame Pompadour's favorites. The Oak Spring collection, as well as our selection of Van Loo hyacinths, boldly fill the page with vibrant color and rich green leaves that seem to wave in a light breeze. Scholar Lucia Tomasi noted in An Oak Spring Flora: Flower Illustration from the Fifteenth Century to the Present Time: A Selection of the Rare books, Manuscripts, and Works of Art in the Collection of Rachel Lambert Mellon (1997), that our L'Admiration, is closely related to the Oak Spring album.
Please feel free to contact us with questions by phone at 215.735.8811,
or by email at loricohen@aradergalleries.com 
---
We Also Recommend