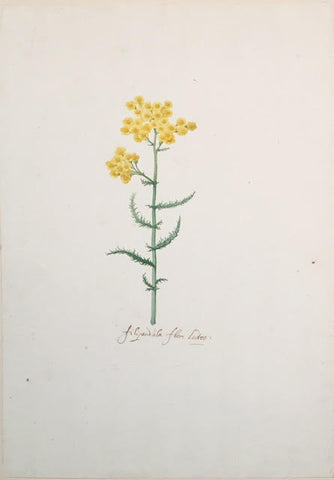 Pieter Holsteyn The Younger (Dutch, 1614-1687), Filpendula Flore Luteo
Pieter Holsteyn The Younger (Dutch, 1614-1687)
Filpendula Flore Luteo
Watercolor on paper
Paper size: 12 3/4 x 8 1/4 in.
Pieter Holsteyn the Younger, pupil of his father, practiced his art in his native Haarlem as well as at Zwolle and Munster. He painted in many media on canvas, glass, and vellum, and was also known for his engraved portraits. The market for still-life painting in Holland during the late sixteenth and seventeenth centuries grew to the point where even moderate-sized towns often supported a small colony of artists. The specialization was not only one of style, but the subject matter as well. Holsteyn's versatility and precision served him well in the painting of flowers, a subject of passionate interest during the period known as the Tulipomania.

The tulip was introduced to Europe in 1552 by Charles Lecluse who bought seeds from Otto de Busbecq, the Austrian Ambassador to Turkey. The bulbs were started in Leyclen, the center of cultivation, and speculation drove the market for them with traders and wealthy collectors paying thousands of dollars for exotic specimens, especially the "broken" tulips with unusual markings. One contemporary pamphleteer arguing for the evils of the trade singled out that bulb by listing more useful goods, all of which could be purchased for the price of one bulb: two loads of wheat, four loads of rye, four fat oxen, eight fat pigs, twelve fat sheep, two hogsheads of wine, four barrels of beer, two barrels of butter, 1,000 pounds of cheese, a bed complete with bed linen, a suit of clothes and a silver beaker (together valued at 2,500 florins). The Brandemandus tulip book at the Stedelijk Museum he Prinsenhof in Delf includes annotations with prices achieved at a 1637 auction, with the Viceroy fetching 4200 guilders, among the highest valued bulbs in the sale.  Even after the speculators' market crashed in the late 1630s, these bulbs were still expensive and widely cultivated.

The "broken" tulip bloom is the kind that Holsteyn portrays so vividly several of the following watercolors, originally from a so-called "Tulip Book." The albums were made for several reasons. Some were commissioned by wealthy gardeners, simply to record their treasures. Others were needed by commercial growers for their catalogues. There was also a demand by print publishers, who had a ready market for botanical prints. Finally, these portraits were often desired by other artists. The Dutch were famous for paintings of bouquets, which they embellished with rare and out-of-season flowers.
Please feel free to contact us with questions by phone at 215.735.8811,
or by email at loricohen@aradergalleries.com
---
We Also Recommend