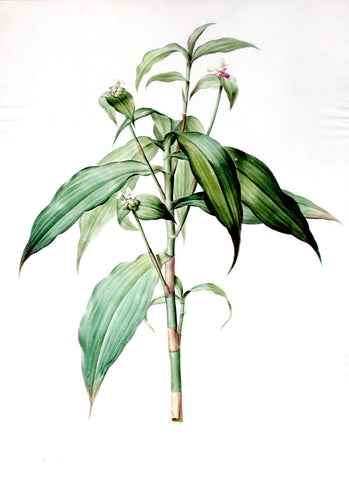 Pierre-Joseph Redouté (Belgian, 1759-1840), "Zanoni's Compelia" Commelina zanonia
Pierre-Joseph Redouté  (Belgian, 1759-1840)
Watercolor for plate 192: "Zanoni's Compelia" Commelina zanonia
Prepared for Les Liliacées ca. 1802-1816
Watercolor and graphite on vellum
Completed: ca. 1802-1816
Vellum size: 18 1/4 x 13 5/8 in.
Signed 'P.J. Redouté' lower left
Country of Origin: Central and South America (from southern Mexico to Brazil and Bolivia). Genus named for a certain Campel, and species named by Linnaeus for the botanist Giacomo Zanoni (1615-1682), head of the botanic garden of Bologna.
Please feel free to contact us with questions by phone at 215.735.8811,
or by email at loricohen@aradergalleries.com 
---
We Also Recommend