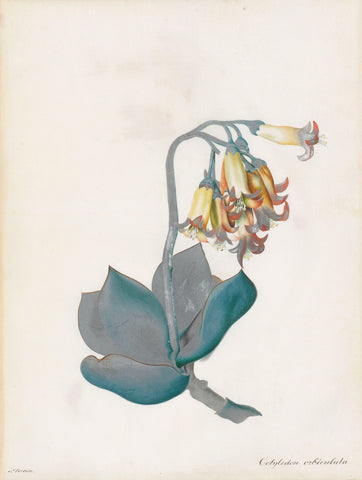 PETER BROWN (BRITISH, FL. 1758-1799) Study of red-edged pig's ear, cotyledon orbiculata
PETER BROWN (BRITISH, FL. 1758-1799)
Study of red-edged pig's ear, cotyledon orbiculata
signed 'P Brown' (lower left) and inscribed 'Cotyledon orbiculata' (lower right)
Pencil, watercolor and bodycolor, heightened with gum arabic on vellum
Ca. 1775
Vellum size: 11 ½ x 9 ¼"
Peter Brown, botanical and natural history artist, may have studied under Georg Dionysius Ehret (1708-70), whose style is similar. Following in the botanical tradition, he painted in watercolor on vellum, as its smooth surface allowed very fine detail and gave a realistic sheen to leaves and petals.
Brown taught a number of aristocrats before being appointed Botanical Painter to George the Prince of Wales in 1784. He was also patronized by Lord Bute, who advised on the development of the Royal Botanic Gardens at Kew, and it is possible that he painted this and other botanical watercolors there. He exhibited at the Royal Academy from 1770 to 1791.
Cotyledon orbiculata, commonly known as pig's ear or round-leafed navelwort is a South African succulent plant.  In the wild, it grows naturally in rocky outcrops in grassy shrubland and the Karoo region. It is grown ornamentally in many countries. 
---
We Also Recommend