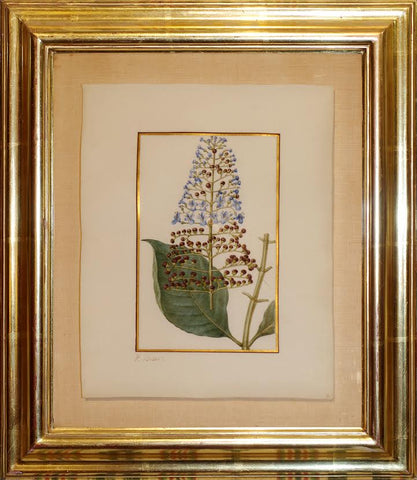 Pancrace Bessa (French, 1772-1835), Corunt Pyramidal
Pancrace Bessa (French, 1772-1835)
Corunt Pyramidal
1810-1827
signed 'P.Bessa'
Pencil, watercolor, bodycolor, gold ink framing lines.
Paper size:10 1/4 x 8 1/4" (slight variations)
Frame size: 16 1/4 x 14"
These watercolors were painted by Pancrace Bessa (1772 - 1835), who studied flower painting with van Spaendonck and Pierre-Joseph Redouté. They were likely made for the Herbier général de l'amateur, which was published in eight volumes and dedicated to King Charles X.  The Herbier was the most important French flower periodical of the day and was inaugurated in 1810. The first eight volumes, concluded in 1827, were illustrated solely by Bessa and contained a total of 572 of his works. They were first edited by Mordant de Launay and after his death by Loiseleur Deslongchamps.
---
We Also Recommend