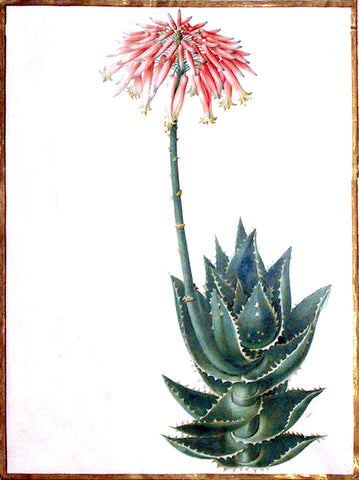 Nicolas Robert (French, 1614-1685), Flowering cactus plant
$ 130,000.00

$ 130,000.00
---
---
Nicolas Robert (French, 1614-1685)
Flowering cactus plant
Pencil, watercolor and body color on prepared vellum, with pencil, gold and brown ink framing lines
ca. 1670
Vellum size: 17 x 12 1/2 in
Frame size: 27 x 22 1/8 in

Nicolas Robert was one of the greatest natural history artists of the seventeenth-century, and his work established standards combining scientific accuracy and aesthetic appeal that influenced generations of artists and won the respect and patronage of the French royal family.  Robert created a vast, exquisite body of work for the French Crown.  Along with other artists, Robert was commissioned by Gaston d'Orleans, brother of Louis XIII, to create watercolors of the rare plants and exotic birds he had assembled in his garden at Blois and the Ménagerie at Versailles.  Robert's talent was recognized quickly as being superior to that of other artists working for the royal family, and after Gaston d'Orleans's death, he was quickly placed under the patronage of the Sun King, Louis XIV.  As a reward for the stunning works he painted for the king's personal collection, Robert was named Peintre Ordinaire du Roiinches in 1666, a title that confirmed his continuing fame and patronage.    

Robert was the first significant contributor to a collection of fine watercolors on vellum that became known, collectively, as the Velins du Roi (the King's Vellums).  The watercolors Robert completed under Gaston d'Orleans and then Louis XIV for the royal collection fed the interest and provided the inspiration for the great masters of botanical and ornithological art who followed: Jean Joubert, Nicholas Marechal, Gerard van Spaendonck and, of course, Pierre-Joseph Redouté.  Thus, the extremely fine print work of Parisian natural historians and flower painters as late as 1825 can be traced directly back to the strength of Robert's tradition.

Recognizing the greatness of the Velins, Napoleon Bonaparte continued work on this monumental and exquisite undertaking and these remarkable works were probably completed by Robert under his patronage.
Please feel free to contact us with questions by phone at 215.735.8811,
or by email at loricohen@aradergalleries.com 
---
We Also Recommend