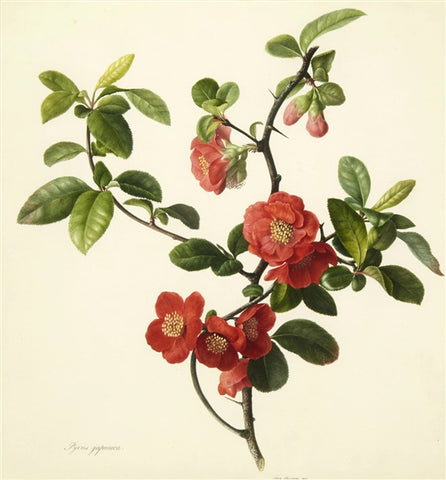 Mary Lawrance (British, Fl. 1794–1830), Pyrus Japonica [Japanese Quince]
Mary Lawrance (British, Fl. 1794–1830)
Pyrus Japonica [Japanese Quince]
Watercolor and bodycolor on vellum
Titled in ink 'Pyrus Japonica' lower left, and signed 'Mary Lawrance. 1806' center
1806
Vellum size: 11 ¼ x 10 ½ in.; Framed size: 23 x 22 ½ in.
Provenance: Bute Family Collection, Scottland (by repute); with Susan Frei Nathan Fine Works on Paper, LLC, New Jersey; Acquired from the above by the present owner, circa 2003.

A magnificent watercolor of a spray of Japanese quince in full bloom. This plant was first described in 1784, so it was still quite exotic when this watercolor was painted in 1806.
MARY LAWRANCE (BRITISH, FL. 1794–1830)

Mary Lawrance was the most significant botanical illustrator at the turn of the 19th century, a teacher and an exhibitor at the Royal Academy from 1794-1830. She became famous for her illustrations of flowers, particularly for her book 'A Collection of Roses from Nature', which she dedicated to Queen Charlotte. Lawrance drew, etched and colored all of her works, placing great emphasis on the quality of the colors she used, which had to be manufactured according to her instructions and under her supervision.

The present work is a masterful depiction of the Japanese quince in full bloom, which only reached the West about ten years earlier and was still considered as exotic in 1806. It is not surprising that Lawrance had the opportunity to paint this rare plant, given that it was a great honor to have one's flower drawn by her.

Please feel free to contact us with questions by phone at 215.735.8811,

---
We Also Recommend