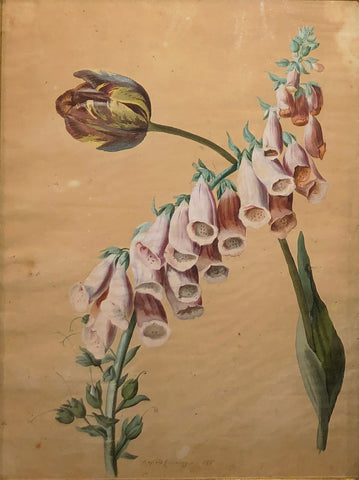 Leopold Zinnogger (Austrian, 1811-1872), Tulip and Foxglove
Leopold Zinnogger (Austrian, 1811-1872)
Tulip and Foxglove
Watercolor and gouache on paper
Signed 'Leopold Zinnogger'
Early 19th century
Paper size:13 x 9 1/2 in.
Frame size: 19 1/4 x 15 1/2 in.
Several of these beautiful watercolors are signed by Franz Xaver Gruber (1801-1862), a Viennese botanical painter who was a pupil at the Vienna Academy. In 1835, he became a professor at the Academy, and in 1839 he was made a member of the Milan Academy. Gruber maintained several high profile patrons and painted orchids for Emperor Franz Joseph and camellias for Prince Klemens Wenzel von Matternich. Each of Gruber's brushstrokes reveals the sophisticated detail of these beautifully rendered flowers.

Other works in the group bear the signature and style of Leopold Zinnogger (1811-1872), another prominent Austrian botanical painter whose work is similar in style to and equally as beautiful as Grubers. Altogether, a wonderful grouping of early nineteenth-century Viennese botanical watercolors.
Please feel free to contact us with questions by phone at 215.735.8811,
or by email at loricohen@aradergalleries.com 
---
We Also Recommend