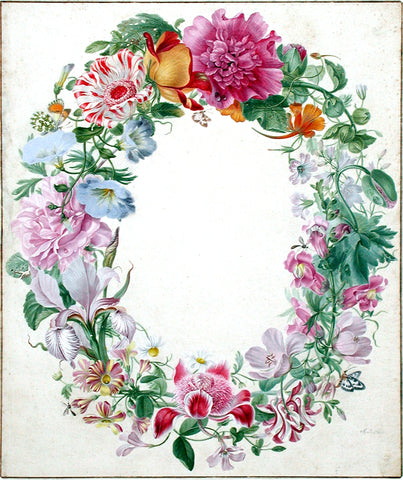 Johannes Bronckhorst (Dutch, 1648-1727), Floral Wreath
$ 150,000.00

$ 150,000.00
---
---
Johannes Bronckhorst (Dutch, 1648-1727)
Floral Wreath
Pen and black ink, watercolor, gum arabic within brown ink framing lines
Signed lower right: J. B. fec.
ca.1700
Paper size: 13 5/8 x 10 3/4 in
Frame size: 22 x 25 1/2 in
Johannes Bronckhorst was born in Leiden in 1648 to artist Pieter van Bronckhorst. Johannes learned to paint from his father who was a sought after historical painter for churches and temples.  

According to Dutch Golden Age biographer Arnold Houbraken, Pieter died when Johannes was thirteen.  Without a close family, the young man was sent to work as a pastry baker for a cousin in Haarlem. While he developed his pastry trade, he continued to draw as a hobby.  Johannes eventually married and settled in Hoorn where he was able to maintain his pastry career while also pursuing his passion: watercolor painting.

In Hoorn, Bronckhorst specialized in watercolors of exotic and indigenous birds, shown either individually or several to a sheet, taking the more scientifically based tradition of artists such as Pieter Holsteijn and developing it in more decorative directions. He also trained the next generation of natural history painters, including Hendrik Graauw and Herman Henstenburgh.

Bronckhorst's forges a remarkable synthesis between a concern for scientific truth and the decorative by incorporating exotic and common species that were highly prized by royal and private clients.  His brilliance was recognized early on, perhaps most eloquently captured by poet-preacher Johannes Vollenhove who wrote a commemorative verse about the artist's work:

How come your Book on Painting lives on and floats,
O Bronkhorst, still in my mind/thoughts!
Whose eye could on panel or canvas,
Expect a more perfect painting.
Then they know of your genius
On paper or parchment?

My mind grazed in a meadow with lust,
There it is teeming with fearless animals.
And birds, created as if they are alien to tranquility
Sway to and fro
Dressed so beautifully, as Salomon
In all his splendor could not equal

Who will not shout; This is not an illusion, o no,
Of course, the birds live here.
The claws grab, on which they stand
The swiftness comes of the wings
Did the art brush not forget a tongue
It is heard, how the birds sang.
And what a change, just created,
What fine eye could she ever bore?
What diligence has gathered collected them
From all four of the parts of the world?
Because never bore a land and air
Such a variety of birds in flight.

Will someone presume now with Oil paint
To tender Work of art.
This watercolor, which will never grow silent,
Has a vigor that surpasses Oil paint
Nor a master's lesson was given here
Only Nature was his mistress.

Nature does not preserve beauty, that she
brought into the light, for it decays.
But Bronkhorst, bright of mind, when he
pursues Nature, with drawings and paints,
deserves, in spite  of death,
To live on after his lifetime. 

Please feel free to contact us with questions by phone at 215.735.8811,
or by email at loricohen@aradergalleries.com 
---
We Also Recommend