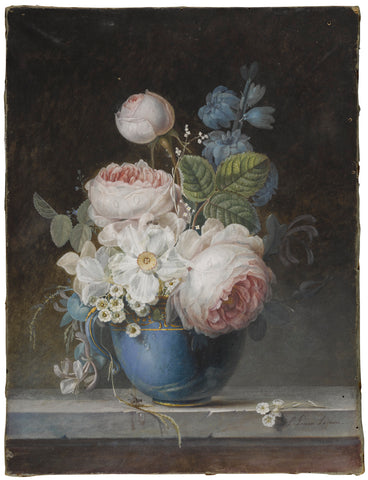 Jean Louis Prévost (c. 1760-1810), A Bouquet of Flowers
Jean Louis Prévost (French, ca 1760-1810)
A Bouquet of Flowers
Gouache on blue paper laid down on canvas
Signed in gouache, lower right: JL Prevost LeJeune
Paper size: 12 ¾ x 9 ¾ in.

Jean Louis Prévost was a successful and widely renowned flower painter, respected his watercolor and oil paintings, and for his engraved works.  His paintings were consistently exhibited in the prestigious Paris Salon, and his original watercolors served as models for a series of exquisite color-plate botanical books.  His "Collection des Fleurs et des Fruits" is one of the greatest French flower books of the early 19th century.  Unlike Redouté, his great contemporary, Prévost's intention with his works was not primarily scientific.  His great "Collection" was intended as a reference work for china and fabric pattern designers.

Prévost here demonstrates his mastery of the traditional still-life genre.  These strong compositions indicate his aesthetic concerns, while the delicate, detailed, and highly accurate depiction of each flower also exemplifies the artist's exceptional rendering skill.  Although he was not primarily a botanist, all of Prévost's works were based on careful observation of specimens.
Please feel free to contact us with questions by phone at 215.735.8811,
or by email at loricohen@aradergalleries.com 
---
We Also Recommend