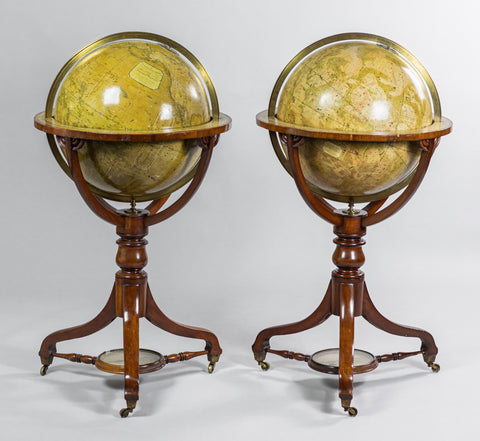 James Wyld the younger (1812 – 1887), [Globes by Malby and Son], A Terrestrial Globe; A Celestial Globe
James the younger Wyld (1812 – 1887) [Globes by Malby and Son] 
A Terrestrial Globe; A Celestial Globe 
London, Celestial with Wyld label dated 1860; Terrestrial with Wyld label dated Jany 1st 1869. Both with address "Charing Cross East, next door to the Post Office" 
Diameter 18 in.; Height 42 in. 

Each globe made up of a set of twelve engraved globe gores, hand-colored in outline, original varnish, some crackle marking and rubbing of the surface. The Wyld labels pasted on top of the gores, replacing the original Malby labels. Brass hour and meridian circles, each with an engraved graticule to one face. The globes mounted on their original elegant English mahogany tripod stands, original compasses with pointers, papered horizon bars supported by four quadrants, with central turned wooden pillar and curved feet, brass shoes and castors. 

A fine pair of traditional library globes on distinctive English-style stands by Malby and Son, and resold with James Wyld II labels just after the sale of the Malby stock to James Wyld II. James Wyld and his son James II were among the leading English map and globe makers of the mid-19th century, taking over as the principal map and globe makers from the Cary brothers and Newton. James II took over the Malby and Son stock in 1860, hence these globes on Malby type stands. 

The geography of the terrestrial globe includes notable geographical advancements such the course of the Florida Stream (Gulf Stream) current and the Atlantic marking lines of magnetic variations (a Malby invention). The globe also features a table of the estimated population of the world compiled by G.S. Brent, fellow of the Statistical Society of London. The populations of the world are divided into Europe, Africa, Asia, and the Americas, with the U.S. population having been at approximately 23.5 million. Listings of surface area, religions, vegetables, and animal species are noted as well. The coastline of Antarctica accurately depicts the new discoveries of Grahamland, South Victoria, Adelieland, Sabrinaland, and Enderbyland. Part of this coast was seen by Kemp in December of 1833. The geography of Africa is particularly interesting – on the cusp of European exploration into the interior, it shows tribal areas, several of the east African lakes, and the coast of east Africa marked as the dominions of the imam of Muscat. The globe has a fascinating depiction of the western states of America as well, where the outline of Washington, Oregon, California, and New Mexico, and Nebraska are firmly in place. Utah covers the rest of the Rockies and Western Plains.
---
We Also Recommend