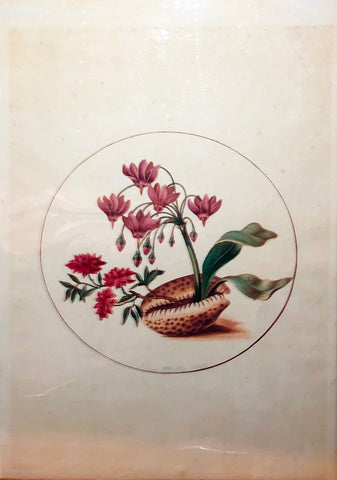 James Bolton (British, 1735-1799), [Cyclamen and Cowery Shell]
James Bolton (British, 1735-1799)
[Cyclamen and Cowery Shell]
Watercolor and pencil on laid paper
Signed 'James Bolton 1783'
Paper size: 17 x 10 1/2 in.

James Bolton was born near Warley in the West Riding of Yorkshire in 1735, the son of William Bolton, a weaver. James initially followed his father's trade, but later became a self-taught art teacher and finally a tavern owner in his home village of Warley.  James and his older brother, Thomas Bolton (1722–1778), were keen naturalists, both contributed to the natural history section in The History and Antiquities of the Parish of Halifax in Yorkshire, published in 1775 by John Watson.

James Bolton subsequently developed his interest further by writing or illustrating a number of important natural history books including Richard Relhan's Flora Cantabrigiensis (1785), his Filices Britannicae (1785), and his three-volume work, A History of Fungusses growing about Halifax (1788-1790).

Bolton's final published work was Harmonia ruralis, an "essay towards a natural history of British songbirds," issued in two volumes (1794–6). Birds and their nests were drawn from life, and the text contained many of Bolton's first-hand observations. The popularity of the subject matter led to two subsequent but posthumous editions in 1830 and 1845.

An exhibition devoted to James Bolton and his works was held at the Liverpool Museum in 1995-6 and he was one of the artists featured in the Nature Observed exhibition at the University of London in 2006.
Please feel free to contact us with questions by phone at 215.735.8811,
or by email at loricohen@aradergalleries.com 
---
We Also Recommend