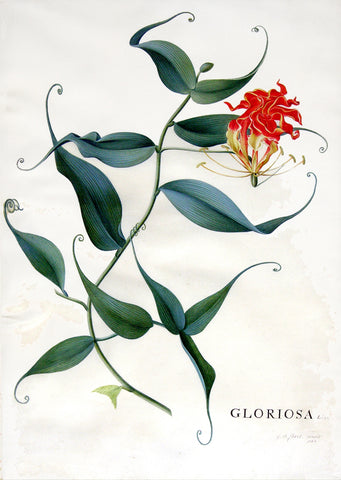 Georg Dionysius Ehret (German, 1708-1770), Gloriosa Linn.
$ 250,000.00

$ 250,000.00
---
---
Georg Dionysius Ehret (German, 1708-1770)
Gloriosa Linn.
Watercolor on vellum
Signed and dated l.r.: G.D. Ehret pinxit/ 1762
Vellum size: 18 1/2 x 13 1/4 in.
Frame size: 30 1/2 x 24 1/2 in.
This exquisite watercolor of the gorgeous gloriosa superba is by Georg Dionysius Ehret (1708-1770), one of the eighteenth century's finest, most skilled painters of flowers, whose mastery of the genre is such that his works continue to be highly sought after even today.

The gloriosa superba has a remarkably unique beauty matched only by Ehret's incredibly refined artistry. Native to tropical Africa and Asia, it has been widely sought after and cultivated abroad, and now grows in many types of habitats, from tropical jungles to forests and woodlands, and even sand dunes. A climbing perennial herb, its stem reaches 4 meters long, and with its long, undulating petals, the gloriosa superba has become variously known as the flame or fire lily, glory lily, superb lily, climbing lily, and creeping lily. Indeed, Ehret seems fascinated by the picturesque possibilities afforded by such a vast plant and he keenly spreads its arabesques across the breadth of the picture space. The gloriosa's flower is showy, characterized by long stamen and six tepals, generally reaching 5 to 7 centimeters; Ehret captures its fiery character in a dense mass of highly articulated, almost tortuous bright red "flames," tracing the turns and twists of each edge in a vibrant yellow ochre that knowingly emphasizes their ribbon-like quality. It is, however, the gloriosa's glorious foliage that most captivates Ehret, and the artist carefully paints the precise linearity and gentle gradations of its smooth, lance-shaped leaves as well as the delicate convolutions of their tendril tips. Across the length of the slender, vine-like stem, Ehret employs beautiful chiaroscuro, using light and shade to emphasize the turns of the leaves and creating a suite of rhythmic juxtapositions that make the plant seem to dance across the vellum.
These subtly splendid watercolors are by Georg Dionysius Ehret (1708-1770), arguably the finest flower painter of eighteenth-century Europe.  Ehret's work stands as a preeminent accomplishment of European botanical art, and the reasons for this acclaim are immediately evident in the virtuoso draftsmanship and fine, nuanced coloring of these works.  
Born in Heidelburg to a market gardener, Ehret began his working life as a gardener's apprentice, eventually becoming a chief gardener for the Elector of Heidelburg and the Margrave of Baden, whose prize tulips, and hyacinths he painted. Ehret soon moved on to several cities across Europe, collecting eminent friends and important patrons as he traveled.  His list of benefactors included the most brilliant and celebrated natural history enthusiasts of his day, among whom was Dr. Christopher Trew, a wealthy Nuremberg physician who became his lifelong patron, friend, and collaborator.  From 1750 until Ehret's death in 1770, he and Trew collaborated on the publication of the important illustrated volumes Plantae Selectae and Hortus Nitidissimus, both of which added to the rising acclaim for the artist's considerable talents as a botanical painter.  Also, Ehret's admirers were the Parisian naturalist Bernard de Jussieu and the great Swedish naturalist Linnaeus, and Ehret's illustrations are some of the first works to reflect the Linnaean system of classification.
Ehret was one of the first artists to focus on exotic species from across the Atlantic, and his draftsmanship was so fine that his friend and colleague, the great artist/naturalist Mark Catesby, used at least three of the German painter's botanical illustrations for his seminal Natural History of Carolina, Florida, and the Bahama Islands. Today, Ehret's images are widely considered the most desirable to emerge from that monumental publication, and he collaborated with Catesby in other ways, too, in the compilation of the Natural History, offering advice or adding significant elements to Catesby's initial compositions.  Catesby was influenced greatly by Ehret's accomplished style, especially in the representation of three-dimensionality, but the older artist was never able to attain the same high level of meticulous realism and vitality.  Ehret, in turn, drew on a few Catesby's discoveries and observations in his own work.  Unlike Catesby, Ehret was never able to travel to America but became fascinated with examples of New World flora that he saw in English natural history collections, such as that of Peter Collinson, a friend, and patron of both artists.  Painted just at the time of the publication of Catesby's Natural History, these watercolors are spectacular early representations of American flora.
In England, where he eventually settled, Ehret became the only foreigner to be elected a Fellow of the Royal Society.  Though Ehret's work is best known through printed illustrations done in collaboration with Trew, even his impressive engravings cannot compare with the vibrancy, color, and detail of the original paintings.  Only in his remarkably sensuous and accurate watercolors is the full extent of his mastery and sensitivity clear.  Ehret's delicate modulations of tone and shadow bring vitality to these exquisite original watercolors, belying their ostensibly documentary purpose.  His distinctive style transcends scientific illustration, achieving a level of beauty that has rarely been equaled in the history of botanical art.
---
We Also Recommend