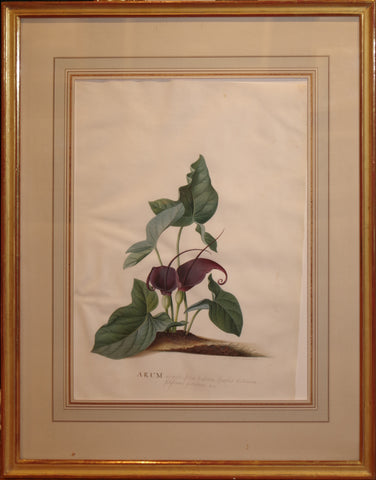 Georg Dionysius Ehret (German, 1708-1770), "Arum"
Georg Dionysius Ehret (German, 1708-1770)
"Arum"
Watercolor heightened with Arumgum arabic on vellum
Ca. 1764
Vellum 17 1/2" x 12 1/2"
Frame: modern; 25 3/4" x 20"
Titled, Lower Center: ARUM acaule, foliis haftatis, fpatha declinata filifomi fubulata. Linn. Signed and Dated Middle Right: G.D. Ehret. pinxit 1764.
Georg Dionysius Ehret (1708-1770) was arguably the finest flower painter of the eighteenth- century Europe. His illustrations are some of the first works to reflect the Linnaean system of classification. Born in Heidelburg to a market gardener, Ehret began his working life as a gardener's apprentice, eventually becoming a chief gardener for the Elector of Heidelburg and the Margrave of Baden, whose prize tulips and hyacinths he painted. Ehret soon moved on to a number of cities across Europe, collecting eminent friends and important patrons as he traveled. His list of benefactors included the most brilliant and celebrated natural history enthusiasts of his day, among whom was Dr. Christopher Trew, a wealthy Nuremberg physician who became his lifelong patron, friend and collaborator. From 1750 until Ehret's death in 1770, he and Trew collaborated on the publication of the important illustrated volumes Plantae Selectae and Hortus Nitidissimus, both of which added to the rising acclaim for the artist's considerable talents as a botanical painter. Also among Ehret's admirers were the Parisian naturalist Bernard de Jussieu and the great Swedish naturalist Linnaeus.

For Plantae Selectae, the level of botanical interest and exotic appeal were how Ehret and Trew chose which illustrations to use. They had to decide on a way to present these tropical subjects to the public that had only recently been introduced to Europe. These original watercolors of the rhododendron and arum were painted in preparation for the printed work and then translated into hand-colored engravings by Johannes Jacobus and Johannes Elias Haid. Though Ehret's work is best known through printed illustrations done in collaboration with Trew, even his impressive engravings cannot compare with the vibrancy, color, and detail of the original paintings. Only in his remarkably sensuous and accurate watercolors is the full extent of his mastery and sensitivity clear. Ehret's delicate modulations of tone and shadow bring a vitality to these exquisite original watercolors, belying their ostensibly documentary purpose. His distinctive style transcends scientific illustration.
---
We Also Recommend