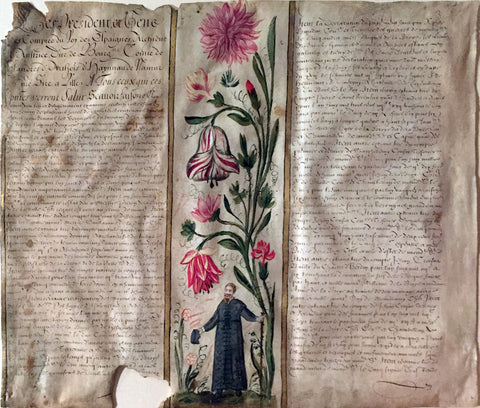 Flemish, 17th Century, [Clergyman with Tulips and Carnations]
Flemish, 17th Century
[Clergyman with Tulips and Carnations]
Bodycolor on vellum, most ruled in gold leaf
Painted in Lille, 1630
Framed size: 21 1/4 x 30 1/2

Provenance: Louis-François Quarré-Reybourbon (Lille, Collection Quarré-Reybourbon 19th-century bookplate) — Paul Anatole Auguste Marie Denis du Péage (Lille, 1874-1952, armorial bookplate).

Literature: Blunt & Stearn, The Art of Botanical Illustration (1994), pp. 127-146; P. Denis du Péage, Recueil de généalogies Lilloises (1906-1908); A. Pavord, The Tulip (1999), pp.137-177; L. Tongiorgi Tomasi, An Oak Spring Flora (1997), pp.267-306.

An important early collection of original botanical paintings celebrating the wealth and status of the De La Broye family of Lille. The most famous of these luxury plants was the tulip, and given the time and the place where these drawings were done it is no surprise to find various cultivars of the tulip predominating. All of the varieties shown are of the most expensive bybloemen group, those with shades of purple and violet on white ground.  The manuscript is further enlivened by images presumably of the De La Broye family undertaking suitably aristocratic pursuits. These include a preponderance of military subjects, but also hunting and cooking.

The courtly interest of the 1600s had by the 1620s become more widespread, and from 1634 to 1637 tulips were the flowers which fueled the tulipomania craze in the Netherlands. At its height, sums equal to the cost of a good-sized house on the waterfront in Amsterdam were gambled on single bulbs. These manuscripts form one of the earliest known collections of images of a significant number of different varieties of tulips; they form a rare and valuable record of the cultivars of the period. In addition to tulips, the images also include pinks, narcissi, irises, martagon lilies, roses, and asters.

The documents, produced for the De La Broye family of Lille, can be dated to a golden period for the city of Lille when the city and a large area of what is now northern France was ruled over by Spain, forming the Spanish Netherlands. Internal evidence shows that both rolls were compiled for the De La Broye family as proofs of nobility. To achieve the status of gentleman it was necessary for an individual in trade to prove that his family had in the past been of sufficient standing to warrant his being elevated once again.

To provide this proof the De la Broye family apparently retained the services of J. Simon the premier greffier or chief clerk of the Chamber of Accounts of Lille. He arranged for the archives to be searched for every reference to the good work or good standing of the family. These extracts (dating from the 13th to the 16th century) were then copied out by skilled scribes using various calligraphic and textual hands (apparently in imitation of the originals). Each extract was headed by a precis of what it was and a note about which original document it had been taken from, and each was attested to by J. Simon.
Please feel free to contact us with questions by phone at 215.735.8811,
or by email at loricohen@aradergalleries.com 
---
We Also Recommend