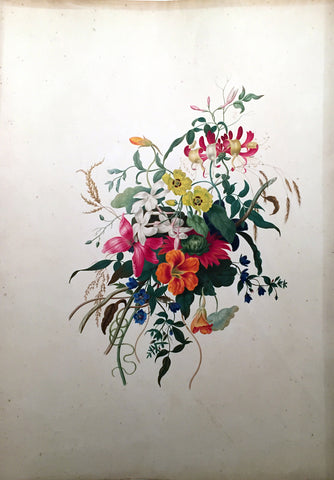 Ferdinand Bauer (Austrian, 1760-1826), Bouquet
$ 185,000.00

$ 185,000.00
---
---
Ferdinand Bauer (Austrian, 1760-1826)
Bouquet
Watercolor on paper
Unsigned

Ferdinand Bauer was born in Feldsberg, Austria, he was one of seven children.  Ferdinand inherited his artistic abilities from his father Lucas Bauer, a court painter for the Princes of Lichtenstein and primarily known through his religious paintings. Lucas died when Ferdinand was two years old but his influence remained of great importance to the young man which we learn from a biography of Ferdinand written in 1843: "in his earliest youth, Ferdinand copied plants and birds from the designs of his late parents, but soon took up painting from nature, and followed her as his chief guide throughout life." (Lhotsky, J. "Biographical sketch of Ferdinand Bauer" London journal of botany, 1843, 106 – 113).  

The Bauer boys trained under Norbert Boccius at the Feldsberg monastery.  Under Boccius' care, the Bauer brothers learned the tandem pursuit of art and science based on the nascent Linnaean system of classification. Notably, Lhotsky wrote that around 1775 Ferdinand contributed "miniature delineations of plants from nature… the greater part of a collection, which, consisting of 16 volumes in folio." The title of the volumes acknowledged his contributions, as well as those of his brothers, Norbert Bossio Collectas et a Josepho, Francisco et Ferdinando Bauer pictas.  Fresh from the praise of their work, both Ferdinand and Franz moved to Vienna to work for Baron Nicolaus von Jacquin, professor of botany at Vienna University and director of the University botanic garden. Jacquin employed the Bauer brothers to contribute illustrations for his Icones Plantarum Rariorum (1751-1793). Ferdinand's fine work caught the attention of Dr. John Sibthorp who then brought the young artist with him to Greece to assist in illustrating his book on Greek botany, Flora Gracea.

Later, Bauer was one of six draftsmen chosen by Sir Joseph Banks to accompany Matthew Flinders' circumnavigation of Australia and under the direction of naturalist Robert Brown. His talent was praised by Flinders who wrote in 1802, ""[It] was fortunate for science that two such men as Mr Brown and Mr Bauer have been selected, their application is beyond what I have been accustomed to see." Bauer remained in Australia after the voyage, returning to England in 1805 and subsequently printing some of his watercolors as Illustrationes Florae Novae Hollandiae from 1806 to 1813.  

The bulk of Bauer's finished paintings was acquired by the British Admiralty. In 1843 they were transferred to the British Museum together with additional paintings that Robert Brown had bought from Franz Bauer. Most of the sketches, as well as the herbarium and a collection of skins, were acquired by the Austrian Imperial Museum and are now housed in the Natural History Museum in Vienna. 
Please feel free to contact us with questions by phone at 215.735.8811,
or by email at loricohen@aradergalleries.com 
---
We Also Recommend