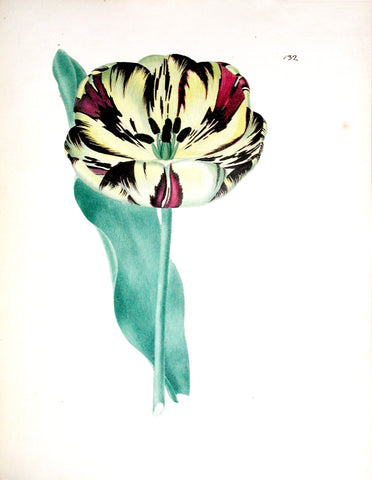 Edward Dalton Smith (British, 1800-1866), Plate 132
Edward Dalton Smith (British, 1800-1866)
Plate 132
Prepared for Robert Sweet's The Florist's Guide
Watercolor on paper
1827-32
Paper size: 7 3/4 x 9 1/2 in
Frame size: 15 3/4 x 17 1/4 in

For many years, E.D. Smith was employed at the Royal Botanic Gardens at Kew and was one of the finest botanical artists of the time.  Accomplished in both floral and portrait painting, Smith specialized in miniatures, a fact that accounts for the intricate detail of these watercolors.  He was taught by his father, Anker Smith (1759-1819), who was himself a noted engraver and miniaturist.  Smith lived in London, exhibiting much of his work from 1816 to 1847.  He exhibited at least 66 works at the Royal Academy and an additional 13 at the Suffolk Street Galleries. 
Smith's skill in small-scale work, evidenced by the exquisite detail of these superb watercolors.  Flamboyant tulips appear to rise off the page, their petals unfolding and spilling into the viewer's space.  Marigolds, carnations, auriculas, and dahlias are all endowed with a distinct visual character, some with delicate veins traced along with their translucent petals, others fully opaque and vivid. 
Robert Sweet, Smith's collaborator, was an enterprising horticulturist.  He was born at Cockington in Devon but soon moved to the London area, becoming a nurseryman successively at Stockwell (1810-1815), Fulham (1815-1819), and Chelsea (1819-182).  As a horticulturist rather than a scientific botanist or botanical artist, he devoted himself to new species with an eye to their suitability for growing in British gardens and hot-houses; he was more interested in the cultivation than the classification of exotic plants.  Nurserymen colleagues provided most of the plants that he included in his publications.   
The partnership between Sweet and Smith resulted in a series of important illustrated flower books.  The present watercolors represent Smith's entire contribution to The Florist's Guide.
Please feel free to contact us with questions by phone at 215.735.8811,
or by email at loricohen@aradergalleries.com 
---
We Also Recommend