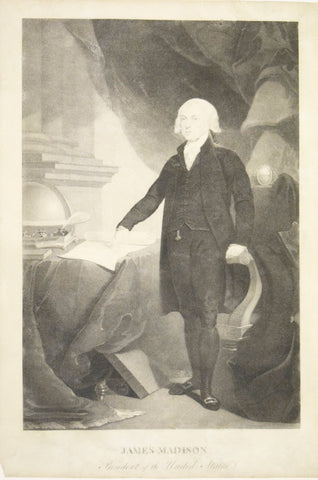 David Edwin, after Thomas Sully James Madison, President of the United States
David Edwin, after Thomas Sully
James Madison, President of the United States
Published, W.H. Morgan & Co., Philadelphia, 1810
Stipple engraving
Paper size 23 ⅛ x 15 ¼"
Image size with text 21 ¾ x 13 ⅛"
David Edwin (after Thomas Sully)
James Madison, President of the United States. [Philadelphia: Published by W. H Morgan & Co., 1810]
Stipple engraving (image size: 454 x 332 mm; sheet size: 587 x 391 mm). Expert restoration, principally in the lower margin.
The most famous portrait of James Madison by one of America's most esteemed engravers
David Edwin was one of the most accomplished American engravers, producing a legacy of enduring prints that remain a wonderful record of American history. Edwin was born in England and at an early age apprenticed to the Dutch engraver Jossi. Making his way to Philadelphia he worked for the notable publisher T.B Freeman where he devoted himself to the production of portraits. During his illustrious career Edwin worked with some of the most famous American painters of his day, artists such as Gilbert Stuart and Edward Savage. Edwin's monumental engraving of Madison follows a developed tradition of American Presidential portraiture established in earlier portraits of George Washington and Thomas Jefferson. During this period a grand American style developed which instituted visual iconography for presidential portraiture, it combined composition and symbol to create a model which would be used for centuries. As in previous portraits, Madison is shown standing at a table with his hand resting on the Constitution; he is surrounded by symbols of his presidency. The quill, inkstand, and piled books represent him as a working statesman, while the globe identifies Madison as an enlightened philosopher. This visual iconography extends into the surrounding setting which is reminiscent, in its classical simplicity and draped softness, of the background in portraits of European royalty. This portrait of Madison stands at the beginning of a long tradition of Presidential portraiture; in its composition and appearance it acts as a symbol of national identity and bears witness to the American dream of enlightened leadership.
REFERENCE
Cunningham, Popular Images of the Presidency: From Washington to Lincoln 137-144; Concise Dictionary of American Biography 265
---
We Also Recommend