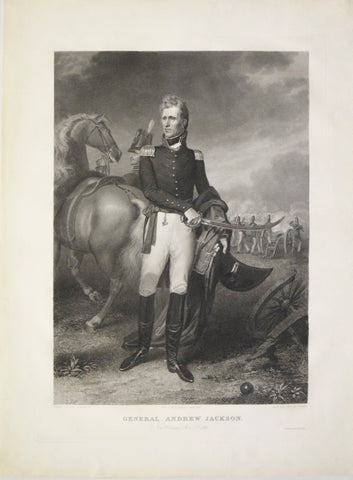 Asher B. Durand (after John Vanderlyn) General Andrew Jackson. New Orleans Jany. 8th 1815. New York: Printed by James R. Burton, June 1828
Asher B. Durand (after John Vanderlyn)
General Andrew Jackson. New Orleans Jany. 8th 1815. New York: Printed by James R. Burton, June 1828
Copper engraving (image size: 375 x 521 mm; sheet size: 711 x 533 mm).
A striking example of this famous portrait of Andrew Jackson by one of the greatest American engravers
Asher Durand was hailed as "the most famous engraver in America" and "the father of American landscape painting." His bold clean style was an immediate success, and he consequently produced some of the most important engravings in American print history. His "Musidora" and his Presidential series, are among the most cherished prints of the period, and his contribution to American landscape painting helped form the nation's artistic identity.
Durand's portrait of Jackson depicts him standing full length in uniform with drawn sword in hand, and with the Battle of New Orleans raging in the background. The American victory at the seminal War of 1812 battle against a British force twice its size cemented Jackson's reputation and propelled him to the presidency. This engraving was commissioned by S. Converse based on the 1823 painting by John Vanderlyn (in New York's City Hall) and sold by subscription in the months leading to the 1828 election in which Jackson defeated John Quincy Adams.
REFERENCE
The Grolier Club, Catalogue of the Engraved Work of Asher B. Durand (New York: 1895), 54; Hudson River Museum, Asher B. Durand: An Engraver's and a Farmer's Art (Yonkers: 1983) 38; Stauffer 600 
---
We Also Recommend