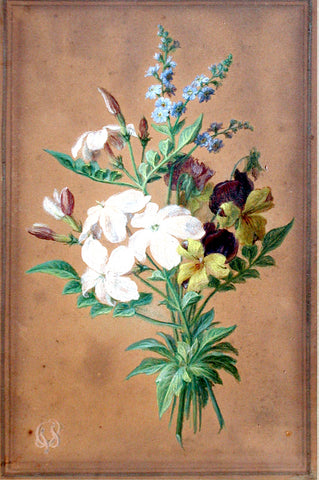 Cornelis van Spaendonck (Dutch, 1756- Paris 1836), A Bouquet of Flowers with Jasmine, Forget-me-nots, and Violets
Cornelis van Spaendonck (Dutch, 1756- Paris 1836)
A Bouquet of Flowers with Jasmine, Forget-me-nots, and Violets
Gouache on brown paper
Signed in monogram l.l.: CVS
Paper size: 8 1/4" x 5 1/2"
Framed size: 16 1/2" x 13 1/2"
Provenance: By descent from the artist to private collection, Tilburg.
Literature: Margriet van Boven and Sam Segal, Gerard & Cornelis van Spaendonck (Maarssen, 1980), p169, cat. no. 126.
Cornelis van Spaendonck was born in the Dutch city of Tilburg, but by the age of seventeen, after completing an apprenticeship in Antwerp, followed his older brother Gerard, also a gifted still life artist, to Paris.  Here, Dutch and Flemish painters dominated the field of flower painting. While the genre was still ranked lower than history and portrait painting by nineteenth-century Academy standards, many sumptuous bouquets graced the walls of the most elegant homes in Paris.  Their modest size made them suitable for smaller rooms with a cabinet atmosphere. Although flower painting was not taught at the Paris Ecole des Beaux-Arts, artists were seldom without patrons for the genre. Many artists found their ability to paint romantic bouquets, and lavish still lifes were useful to many commercial and scientific fields that thrived in France during this period.  Artists found work in the textile industries in Lyon, Saint-Etienne, or Mulhouse, as porcelain painters at Sèvres, and as illustrators of specimens at the Jardin des Plantes.
Thus, Cornelis, like his older brother, Gerard, was able to carve a prosperous career for himself. He became a professor of flower painting at the above mentioned Jardin des Plantes in Paris and a significant contributor to the royal collection of botanical watercolors.  In 1779, he was already exhibiting successfully, and ten years later, he was accepted as a member of the Académie des Beaux-Arts.  During this same period, he served as a designer and as director of the prestigious Sèvres porcelain works.  Van Spaendonck's status and prosperity were undisturbed by the political upheavals which took place during his long life, and he remained an acclaimed flower painter well into the nineteenth century. 
Cornelis and his brother Gerard retained quite distinctive styles throughout their careers.   Cornelis used a softer touch in his works, which tended to be more romantic and fanciful than those of his more literal-minded brother.  This charming bouquet, with its delicate arrangement of flowers, demonstrates these qualities, as well as the technical virtuosity and finish for which Cornelis became famous.  The blossoms, which include jasmine, forget-me-nots, and violets, are beautifully illuminated by the brown ground, which helps to accentuate the soft nuances of color exhibited by the blooms.  
This exceptional painting is most probably an early work by Cornelis van Spaendonck.  Until now, it has remained in Tilburg, the artist's birthplace, purchased from the artist and handed down through successive generations of the one family.  Furthermore, it is a documented and signed piece by this well-known painter. 
Please feel free to contact us with questions by phone at 215.735.8811,
or by email at loricohen@aradergalleries.com 
---
We Also Recommend