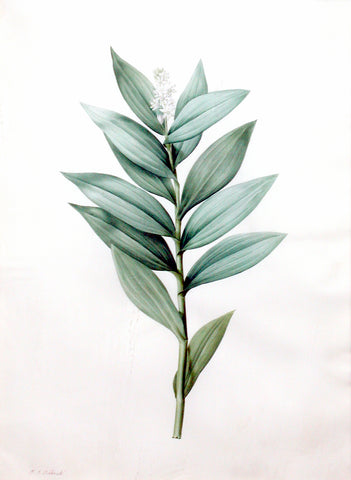 Pierre-Joseph Redouté (Belgian, 1759-1840), "Small False Solomon's Seal" Smilacina stellata
Pierre-Joseph Redouté  (Belgian, 1759-1840)
Watercolor for plate 185: "Small False Solomon's Seal" Smilacina stellata
Prepared for Les Liliacées ca. 1802-1816
Watercolor and graphite on vellum
Completed: ca. 1802-1816
Vellum size: 17 1/4 x 12 5/8 in.
Framed size: 28 3/8 x 23 1/8 in.
Signed 'P.J. Redouté' lower left
Country of Origin: North America (USA from West Virginia in the southeast to New Mexico and California in the southwest to Canada from Labrador to British Columbia, extending to mainland Alaska, without a gap in central North America).
Please feel free to contact us with questions by phone at 215.735.8811,
or by email at loricohen@aradergalleries.com 
---
We Also Recommend