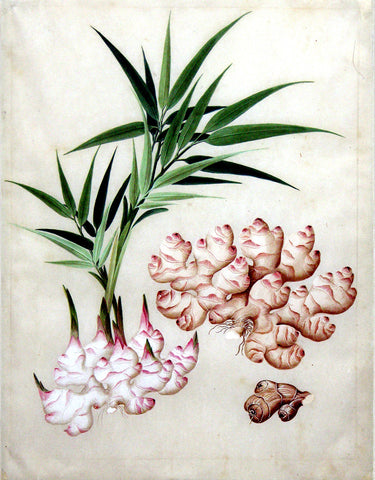 Chinese Export (late eighteenth-century), Ginger root
Chinese Export (late eighteenth-century)
Ginger root
Gouache on paper
Paper size: 18 1/4 x 14 in
Frame size: 27 1/4 x 23 3/8 in
1790-1810
Provenance: Mr. and Mrs. Joseph Verner Reed, Greenwich, CT; and thence by descent to Mr. Samuel P. Reed, New York, NY.
From its origin to the present, ginger is the world's most widely cultivated herb. Initially exported to Ancient Rome from India and used extensively by the Romans.  When the Roman Empire fell, Persia took control of the spice trade from the east, and ginger became quite costly. After Marco Polo's trip to the Far East, ginger came back into favor, especially amongst European herbalists, due to ginger's warming and healing effects on the body which were especially welcome in the typically cold weather of the British Isles. The upper classes were also known to indulge in excessive quantities of fine cuisine, so ginger tea, and biscuits were often served to guests at dinner parties to settle aching stomachs.

CHINESE EXPORT (LATE EIGHTEENTH-CENTURY)

This is an outstanding collection of Chinese export watercolors, illustrating lush and exotic fruits found throughout the Asian continent. One of the leading experts on the arts of the China Trade, Carl L. Crossman, has confirmed their authenticity and describes them as "wonderful examples" of early Chinese watercolors made for export. The identification of each fruit has been confirmed by Dorrie Rosen and Marie Long of the New York Botanical Garden.

The market for Chinese export watercolors grew out of the trade-in porcelain to the West. In Britain, botanical interest in the exotic botany of the world was spurred on by Sir Joseph Banks (1743-1820), the president of the Royal Society. However, the botanical treasures of China must have been known in England well before 1750, since Sir Hans Sloane (1660-1753) owned a fine album of such drawings, now in the British Museum. There was a long tradition of botanical writing and illustration in China, dating back to the Song dynasty (960-1279), and the desire of Western scholars to obtain accurate depictions of unfamiliar Asian flora and fauna was easily satisfied by Chinese natural history watercolorists. The tradition of botanical painting was so prevalent throughout China that western traders were not solely reliant upon the workshops at Canton, the main trading city-port, and also obtained watercolors from other parts of the Chinese community in southeast Asia

These particularly fine examples date from the late eighteenth century and display an acute sense of scientific accuracy balanced by a strong aesthetic sensibility. It is probable that they were originally commissioned by a Western scholar or amateur gentleman-botanist curious as to the appearance of the exotic fruits of Asia.  As is typical of Chinese export watercolors of this period, each work shows the fruit with its complete vegetation and also contains a cross-section illustration depicting the interior flesh of the fruit. Each of these minutely detailed, exquisitely colored, and fully animated renderings seem ready to burst out of its compositional boundaries. Indeed, from the incredibly life-like rendering of a pineapple's prickly scales to the emotionally charged depictions of seeds liberating themselves from their shells, it is clear that the watercolorist possessed an incredibly heightened scientific and decorative sense.
Please feel free to contact us with questions by phone at 215.735.8811,
or by email at loricohen@aradergalleries.com 
---
We Also Recommend