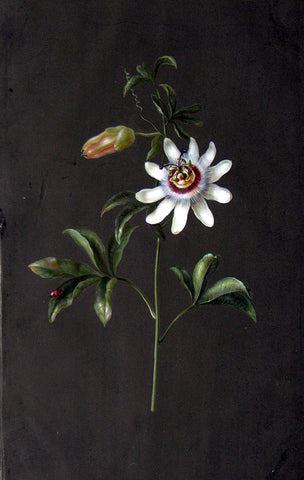 Barbara Regina Dietzsch (German, 1706-1783), Passion Flower
Barbara Regina Dietzsch (German, 1706-1783)
Passion Flower
Watercolor with gouache and gold leaf on vellum
ca. 1765
Vellum size: 10 3/4 x 14 in
Provenance: Hans Müller, Düsseldorf, German
Barbara Regina Dietzsch was a member of an important family of painters, engravers, and musicians that flourished in Nuremberg during the eighteenth-century. Dietzsch was particularly known for her marvelous renderings of flowers and fruit in watercolor and gouache. Employed at the court of Nuremberg, she drew extensively for engravers there, and her work was of such outstanding quality that it was used by Trew and Georg Ehret for a number of plates in the Hortus Nitidissimis (1750-86).

The patronage of Dr. Christoph Trew, the great botanist, and bibliographer, made Nuremberg one of the foremost centers of botanical art in the world, and the Dietzsch family was one of the most noted of the era. Even at the time of its production, the work of Barbara Regina Dietzsch was much sought after by collectors in both the Netherlands and in England. It is recorded that some of the best-known painters of the time accepted her works as a form of payment, signaling the great reputation she attained during her lifetime -- a celebration that has continued to grow in the intervening centuries.

Like most of her family's work, Dietzsch's watercolors are often characterized by the use of a black or dark brown ground and it is partly upon the basis of this that the current attribution has been based. This creates a dramatic contrast between the subject and background and emphasizes the sharp, hard finish of the drawing. The great flower painter Georg Ehret occasionally placed his bouquets on a dark background, but these are not nearly so successful as Dietzsch's in making the subject come to life. Various examples of her work can be found in the Broughton Collection at the Fitzwilliam Museum, Cambridge, England and in each the dark ground is present.

What separates the work of Barbara Regina from that of her other family members is the remarkable clarity of depiction and skill in rendering. With unbelievable mastery and stylistic power, Dietzsch overcame contemporary estimations of women's inferiority in the field of art, creating watercolors of distinctive splendor.
Please feel free to contact us with questions by phone at 215.735.8811,
or by email at loricohen@aradergalleries.com 
---
We Also Recommend