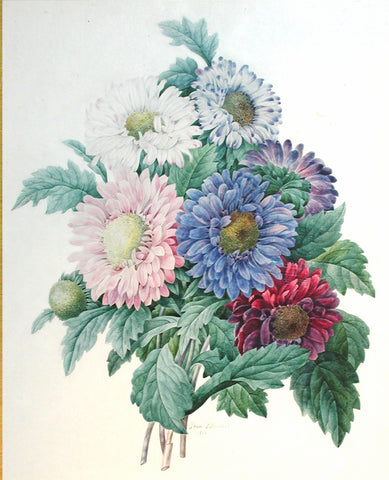 Jean Baptiste Pillement (French, 1728-1808), A Bouquet of Flowers
Jean Baptiste Pillement (French, 1728-1808)
A Bouquet of Flowers
Watercolor, 1806
Sight size:15 x 12 1/4 in.
Framed size: 25 1/2 x 22 in.
Born in Lyon, Jean Baptiste Pillement was one of the most widely traveled artists of his age.  He left France for Madrid in 1745, at the age of seventeen, and visited Lisbon before spending the 1750s in London.  Passing through Paris in 1761, he made short visits to Turin, Rome, and Milan before turning north again, spending the years 1763-64 in Vienna and 1765-67 in Warsaw as a court painter to King Stanislaus Augustus Poniatowski.  Pillement returned to London, going through Avignon to the Iberian peninsula.  He was in Portugal in 1780-86, during which he founded a school of drawing at Oporto, and may have been in Spain in 1786-89.  His last years were spent at Pezenas and Lyon, where he died at the age of eighty in poverty, a victim of the decline of the French rococo taste in the aftermath of the Revolution.

Initially a decorative draughtsman, especially of chinoiseries, Pillement turned to landscape painting while in England, during the 1750s, in response to local demand.   However, the influence of seventeenth-century Dutch painting is evident throughout Pillement's painted oeuvre and especially in this exquisite still life of a bouquet of flowers. 
Please feel free to contact us with questions by phone at 215.735.8811,
or by email at loricohen@aradergalleries.com 
---
We Also Recommend