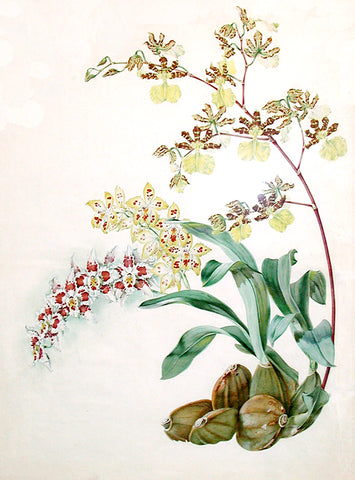 James Laird MacFarlane (British, 1836-1913), Orchid Study
J. L. MacFarlane (British, 1836-1913)
Orchid Study
Watercolor and graphite on paper
ca. 1895
Paper size: 23 3/4 x 20 in.
Frame size: 38 x 31 1/4 in
JAMES LAIRD MACFARLANE (BRITISH, 1836-1913)
J. L. MacFarlane was one of the most noted botanical artists of the 19th century to focus on orchids, and a catalyst of what can aptly be termed British "orchidomania."  In the late 19th century, the English developed a craze for orchids similar to that for tulips in Holland some two hundred years earlier.  Although the Holland tulip mania is well known, the English love of orchids at this period is not.  A single orchid plant could sell for the equivalent of $40,000, as collectors eagerly sought new and more exotic specimens.  Huge greenhouses were built, using technological advances in iron construction, as well as new methods of central heating.  Adding to such enthusiasm was the fact that Britain enjoyed a brisk trade in botanical specimens, and there was soon a proliferation of illustrated periodicals for horticulturists at every level of experience. 
Orchids were brought to England by collectors from various parts of the world, particularly Africa, Asia, and South America.  Since the plants were not in bloom when they arrived, potential buyers were unable to determine what the plant would look like when in full flower.  As a result, artists were commissioned by various horticultural dealers to depict the plants in bloom in order that they could be more easily sold.  It was in this way that many artists like MacFarlane got their start in the field of orchid painting, though very few ever reached his level of skill and nuance.  Incredibly attuned to the smallest details of the most exquisite flowers, MacFarlane was uniquely able to capture the beauty and complexity of the orchidaceae. 
These superb, exceptionally large-scale watercolors are foremost examples of this noted artist's original work.  MacFarlane captured with outstanding naturalism and vibrancy the alternate subtlety and flamboyance of the orchids, the textures of their soft, often translucent petals and opaque leaves and stems. Each defining characteristic is illuminated in profound detail, creating the most breathtakingly beautiful images of orchids to come on the market.
Please feel free to contact us with questions by phone at 215.735.8811,
or by email at loricohen@aradergalleries.com 
---
We Also Recommend