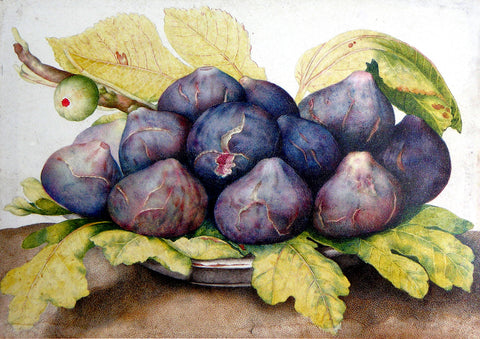 Giovanna Garzoni (Italian, 1600-1670), A Plate of Figs
$ 1,400,000.00

$ 1,400,000.00
---
---
Giovanna Garzoni (Italian, 1600-1670)
A Plate of Figs
Bodycolor on vellum, laid on board
ca. 1662
Vellum size: 9 3/4 x 13 7/8 in
Frame size: 15 1/2 x 19 1/8 in

Provenance: (Possibly) Ferdinando II de Medici, Grand Duke of Tuscany, commissioned from the artist by 1662.

Exhibitions: Westfalisches Landesmuseum fur Kunst und Kulturgeschichte, Munster, Still-Leben in Europa, 25 November 1979 - 24 February 1980, no. 152; Staatliche Kunsthalle, Baden-Baden, 15 March - 15 June 1980; Bayerische Staatgemaldesammlungen, Alte Pinokothek, Munich, Italian still life painting from three centuries, The Silvano Lodi collection, 27 November 1984 - 22 February 1985, no. 41; Gemaldegalerie Staaliche Museen-Preussischer Kulturbesitz, Berlin, 6 September - 27 Ocotober 1985; Israel Museum, Jerusalem, Italian still life painting, The Silvano Lodi collection, June 1994; Seiji Togo Memorial Kasai Museum of Art, Tokyo, Italian still life painting, The Silvano Lodi collection, 28 April - 26 May 2001, no. 16. Schloss Achberg, Ravensburg, Natura morte italian: Italienische stilleben aus vier Jahrhunderten, Sammlung Silvano Lodi, 11 April - 12 October 2003; to be included in upcoming exhibtion at the National Museum of Women in the Arts, Washington D.C., Italian Women Artists from Renaissance to Baroque: Commerce, Court & Convent, March 16 - July 15, 2007.

Literature: Still-Leben in Europa, exhibition catalogue (Munster, 1980), p. 285, no. 152; L. Salerno, Italian still painting from three centuries, The Silvano Lodi Collection, exhibition catalogue (Florence, 1984), pp. 103-4, no. 41; L. Salerno, La natura morta italiana 1560-1805 (Rome, 1984), p. 137, fig. 33.7; G. Casale, Giovanna Garzoni: 'insigne miniatrice', 1600-1670 (Milan 1991), no. A34; Italian still life painting, The Silvano Lodi collection, Jerusalem, 1994; Italian still life painting, from The Silvano Lodi collection, exhibition catalogue (Tokyo, 2001),
p. 53, no. 16; S. Dathe, Natura morte italian: Italienisches stilleben aus vier Jahrhunderten, Sammlung Silvano Lodi, exhibition catalogue (Ravensburg, 2003), p. 37

This Plate of figs belongs to the important suite of more than twenty fruit pieces that Giovanna Garzoni painted for Ferdinando II, Grand Duke of Tuscany (1621-1670). On 28 October 1662, Garzoni wrote to the Grand Duke to thank him for his generous compensation for her 'miniature de frutti', adding that she was enclosing 'another Tazza (dish) to add to the twenty others'.  The parchment miniatures are cited in the 1692 inventory of the Villa Poggio Imperiale in Florence, the favorite residence of the Grand Duchess Vittoria. In the eighteenth century, the series was transferred with the Galleria Palatina to the city of Florence and today is exhibited at the Palazzo Pitti.  This delightful Plate of figs is one of only six still lifes from the original suite that are today in private hands.
Giovanna Garzoni was one of the most important woman painters in Italian art.  Born in Ascoli in the region of the Marches in 1600, Garzoni completed several youthful works that demonstrated a precocious talent.  In 1616 she went to Rome, where she found herself immediately immersed in an ambiance dominated by the innovative ideas of the Academia dei Lincei, which had been founded by the nobleman Federico Cesi and of which Galileo was an illustrious member.  In Rome Garzoni was encouraged to dedicate herself to botanical painting.  Eventually, the genre of still life painting would become her forté, winning her fame at many of the most illustrious courts of Europe - Paris, Rome, Naples, and Turin.  She almost always painted these works on vellum rather than paper or canvas, and became known as the "illustrious miniaturist."  In the 1640s, Garzoni came to Florence to become an official miniaturist to the venerable Medici court.  (It should be noted that this term did not then refer to the size of the paintings, but to a technique of applying tempera to parchment or vellum, producing a delicate translucence like illuminated manuscripts.)  She was greatly attached to the activities of the Accademia di San Luca to which she bequeathed her estate. In gratitude, the academicians erected a commemorative monument with her portrait in their church of SS. Luca e Martina.

Works by Italian women artists from the seventeenth century are exceedingly rare.  Few women had the opportunity to develop an artistic skill or work outside the home in any capacity.  Giovanna Garzoni was a rare example of a woman who managed to work around social codes and become a working, successful and well-rewarded artist: one of the handful whose names are still known today.  The rediscovery of Giovanna Garzoni can be traced back to the great exhibition of Italian still life paintings held in Naples, Rotterdam, and Zurich in 1964. Since that date, the research of many scholars has uncovered the well-documented life of an outstanding woman artist whose works were prized at the courts of Florence, Naples, Rome, Turin, and beyond the Alps to France. 
Please feel free to contact us with questions by phone at 215.735.8811,
or by email at loricohen@aradergalleries.com 
---
We Also Recommend