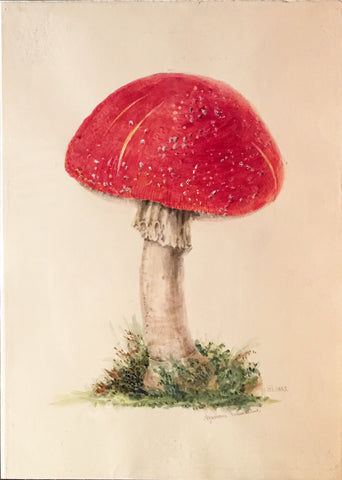 Edward Forster, the Younger (British, 1765-1849), Agaricus Musinius
Edward Forster, the Younger (British, 1765-1849)
Agaricus Musinius
Watercolor on paper
Signed E.F. and dated 1835
Paper size: 15 x 10 ¾ in.
EDWARD FORSTER, THE YOUNGER (BRITISH, 1765-1849)
A supremely rare collection of original watercolors by botanist Edward Forster, the younger. Most are signed, dated, and inscribed with the location he observed his mycological subjects. These late works by the artist retain inscriptions 'Old Park' indicating that the artist-botanist must have lived in Enfield, North London, when these works were painted 1835-1848.

As with many botanists, Edward Forster began his study as a young boy following alongside his father and brothers in Epping Forest which straddles the border of London and Essex. Forster was banker by trade but followed his true passion for plants throughout his life. He joined the Linnaean Society in 1788, eventually became the vice-president in 1828, and was a regular contributor to botanical society journals in the mid-nineteenth century. His name is mentioned frequently in The Botanist's Guide Through England and Wales, A Systematic Arrangement of British Plants, and The Phytologist: A Popular Botanical Miscellany. While primarily known as a botanist, he was also an ornithologist, publishing Catalogus Avium In Insulis Britannicus Habitantius in 1817.

Edward Forster has been described as a shy and contemplative soul with a big heart. He and his brother founded the Refuge for the Destitute in Hackney Road. It was when inspecting the facility during an outbreak of cholera that he contracted the disease. He died two days late on February 23, 1849.
Please feel free to contact us with questions by phone at 215.735.8811,
or by email at loricohen@aradergalleries.com 
---
We Also Recommend