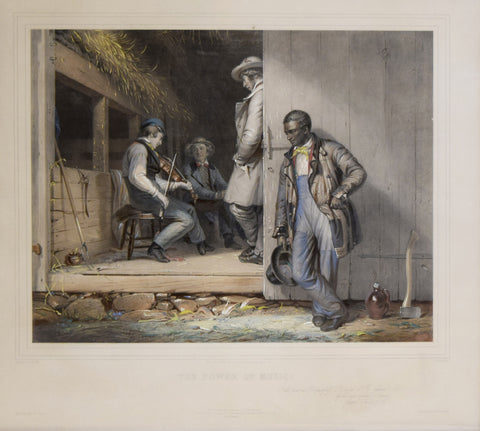 William Sidney Mount (1807-1868), The Power of Music
William Sidney Mount (1807-1868)
Lithograph with original hand color
Framed size 24 1/2" x 27 1/4"
In the mid-19th century, painting was at a peak of popularity in the United States as American artists looked for styles and subject matters by which they might distinguish a truly American esthetic, one that was distinctive and independent from European influence.  An annual New York exhibition devoted exclusively to the work of American artists attracted an average of over 55% of the city's population, reflecting the intense general interest that such native production attracted, probably because it reflected the communal experiences and ideals of the public.  Many artists considered their creative work the province not of a cultural élite but that of the American populace at large, and a celebrated proponent of this conception, William Sidney Mount, instructed: "Paint not for the few but the many."
Mount set the tone for a major trend in American art, creating genre scenes dedicated to the recording of everyday life in small American towns.  While in the following years such subjects were to become wildly popular, Mount was one of the first major proponents of the new emphasis on American life.  Born and raised in rural Long Island, Mount enjoyed an idyllic childhood and his most acclaimed artwork recreated scenes from the small-town life he had known in his youth.  When he began his artistic training, however, Mount struggled to gain a foothold painting in the European manner, and devoting himself to historical and mythological subjects.  It was not until he returned to his home town, Stony Brook, that he immersed himself increasingly in what was familiar, rural, and his own, narrowing his life down to an exclusive love affair with one corner of the earth.  Like a number of his colleagues, he created images that held a timeless resonance for Americans, evoking a way of life that was at once familiar and idealized.  
Mount was distinguished from his fellow American artists, however, by one crucial factor.  Unlike many who followed in his footsteps, he had a heightened sense of empathy towards African Americans.  While many of his contemporaries depicted them as caricatures, Mount imbued them instead with natural grace and dignity.  Although his treatments hardly represented unmitigated reality, they were nonetheless significantly more perceptive and multifaceted than the patronizing, one-sided cartoon figures that became the stock-in-trade of artists and firms like Currier & Ives.  His works emphatically should be judged by the standards of his time; although today they still might appear paternalistic in their attitudes towards African Americans, in the mid-19th century they as far from black-face as visual imagery ever was.
This particular original lithograph is among Mount's most celebrated works, and also one of the most rare.  It shows a black man standing outside of a barn, listening thoughtfully to the fiddling of a white man who sits inside, accompanied by two friends.  Mount's treatment of the subject is utterly empathetic, as he composes the scene such that the main protagonist is the outsider, so to speak -- the African American who is shown as a contemplative, intelligent presence.  An engaging work by a groundbreaking American artist, this lithograph is significant also as a historical document, giving a rare glimpse of relative enlightenment.
---
We Also Recommend