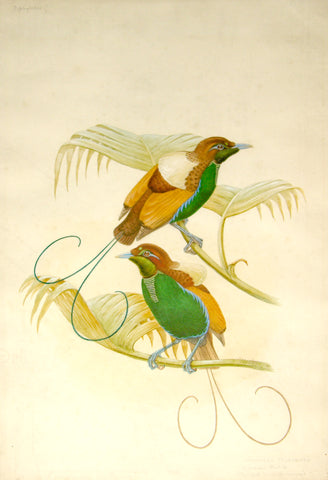 William Matthew Hart (British, 1830-1908), Magnificent Birds of Paradise
William Matthew Hart (British, 1830-1908)
Magnificent Birds of Paradise
Watercolor on vellum
Signed and dated in image lower right: W. Hart 1894
Paper size: 22 x 15 in
Frame size: 33 x 26 1/2 in

WILLIAM MATTHEW HART (BRITISH, 1830-1908)
The talented natural history painter William Matthew Hart was the artistic genius behind some of the lavish illustrations for John Gould's splendid work The Birds of Great Britain and A Monograph of the Trochilidae or family of Hummingbirds.

He began working for Gould in 1851, beginning an association that was to last thirty years. Early during this period, he made the patterns for the lithographic plates for Gould's work on hummingbirds and working on The Birds of Great Britain with Henry Constantine Richter. By 1870 Hart had become Gould's chief artist and lithographer. After Gould died in 1881, Hart was employed by Richard Bowdler-Sharpe of the British Museum to complete Gould's work on the birds of New Guinea and to produce illustrations for Sharpe's monograph on the birds-of-paradise.

Hart is roundly regarded as Gould's most devoted protegé and his most accomplished artist, drawing upon Gould's incomparable legacy of research and craftsmanship to create a splendid tribute to Gould and his favorite birds.

Please feel free to contact us with questions by phone at 215.735.8811,
or by email at loricohen@aradergalleries.com 
---
We Also Recommend