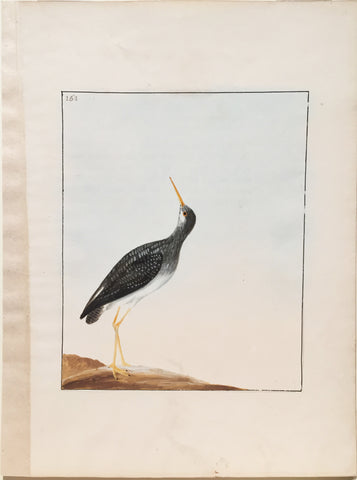 William Lewin (British, 1747-1795), Plate 164
William Lewin (British, 1747-1795)
Plate 164
Watercolor on paper
ca. 1789
Paper size approx: 13 x 10 1/4 in.

William Lewin (British, 1747-1795) & 
Thomas Lewin (b. 1774)
Creating the first edition of the Birds of Great Britain was a massive task for William Lewin. The book, of original watercolor illustrations, contained 323 original paintings (271 birds, 52 eggs), each painted by Lewin for the 60 subscribers to the edition. This work is usually referred to as the rarest of all English bird books because all the illustrations are original works. The bird images are simple and delicate, one bird to a picture in a characteristic pose for the bird. The artist used a light touch to apply the soft watercolor and gouache and employed a stencil to add a delicate black border. The Lewin paintings are extraordinary for their excellent condition and due to this rare volume of original artwork's unique nature.

The Lewins as a family is remarkable for their emphasis on original drawings and their interest in ornithological illustration. William Lewin and his sons, Thomas and John William, had access to the significant natural history cabinets and collections. Including Sir Ashton Lever (and later when owned by James Parkinson), Marmaduke Tunstall, Dr. John Latham, and the Duke and Duchess of Portland. Thomas Lewin published his Album of Original Bird Drawings, all of the original watercolors, from 1825-1831. In collaboration with well-known natural history artist John Gould, John William Lewin published A Natural History of the Birds of New South Wales in 1838.

Due to the high demand for the artist's work, copperplate editions of Lewin's Birds of Great Britain were published in 1785, 1812, and 1838. William Lewin and his sons oversaw the entire project, with the hand-coloring carried out under William's immediate direction.
Please feel free to contact us with questions by phone at 215.735.8811,
or by email at
loricohen@aradergalleries.com
---
We Also Recommend