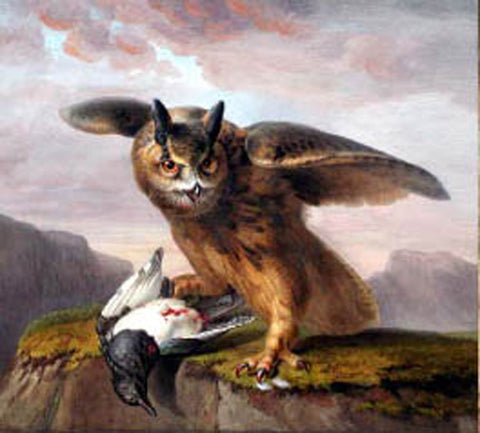 Pancrace Bessa (French, 1772-1835), An owl with its prey
$ 185,000.00

$ 185,000.00
---
---
Pancrace Bessa (French, 1772-1835)
An owl with its prey
Watercolor and gouache on paper heightened with gum arabic
Signed: P. Bessa - paris
ca. 1825
Paper size: approx. 25 x 27 1/2 in.
Frame size: 30 1/4 x 32 7/8 in.

This finely executed work displays Bessa's remarkable talent as a painter. The expertly rendered detail is combined with an exceptional richness of color and texture to produce beautiful and compelling work. He conveys the incredible strength of the owl through the depiction of its mighty talons and yet gives a remarkable degree of movement to his subject as the owl appears startled and ready to take flight. Bessa's watercolor is both a technical tour de force and a highly engaging work of art.

Birds of prey and night-birds appear in drawings as early as the fifteenth century and the fascination with these species continued into the nineteenth century. Interest in owls, in particular, was probably the result of their mythological and allegorical significance, representing the attribute of wisdom.
Pancrace Bessa (French, 1772-1835)
The eighteenth-century saw a burgeoning of interest in birds and exotic animals. Wealthy collectors began to build aviaries and menageries to house their unusual species. These imported species were often part of royal collections and could be found in the United Provinces at the palaces of the princes of Orange and France at Versailles. The expansion of trade and growing exploration of the world resulted in wild animals being captured and examined as both objects of curiosity and scientific pursuits.

Artists were frequently employed to paint prized flora and fauna; among them was the painter Pancrace Bessa. He is primarily known for his botanical watercolors and many published illustrations and showed great facility in the representation of animals and birds.

Born in Paris in 1772, Pancrace Bessa studied at the Muséum National d'Histoire Naturelle with both Gerard von Spaendonck and Pierre Joseph Redouté. He is considered one of the most talented painters of his day and was a regular exhibitor at the Paris Salons between 1806 and 1831. He is also known to have instructed the royal Duchesse de Berry in the art of painting and worked on the French royal collection of watercolors on vellum, known as the Velins du Roi, from 1823 - 1835
Please feel free to contact us with questions by phone at 215.735.8811,
or by email at 
loricohen@aradergalleries.com
---
We Also Recommend