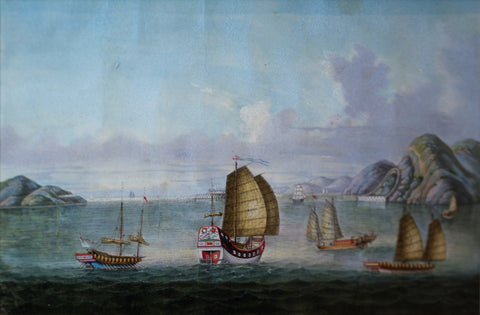 Tingua and His Studio, Boca Tigris on the Pearl River
Tingua and His Studio 
Boca Tigris on the Pearl River
Chinese,
c. 1845-1855 
Gouache on pith paper 
Framed size: 17 1/4" x 12 1/2" 
The studio of the artist Tingqua was perhaps the most prolific source of Chinese export painting during the nineteenth century. Located at 16 China Street, Guangzhou, the school specialized in gouache and watercolor paintings influenced by Western artistic traditions. These works became known in America primarily through the American China trader Augustine Heard, who brought a substantial collection of Tingqua paintings back to the United States in ca. 1855. These are now located at the Peabody Museum in Salem, Massachusetts. Tingqua was from a family of Chinese artists, each of whom were recognized for there skills in painting scenes suitable for the export market. His father, Guan Zuolin, often known by his western name, Spoilum, was the first identifiable artist of the Cantonese export school. These exquisite little views absolutely typify Tingqua's style and technique. All four works display the Tingqua denotation of the sea by regular parallel lines, sometimes with ripples in the foreground. Moreover, his characteristic mannerism of representing trees as thick clusters of yellow-green leaves is amply demonstrated in his paintings of the Canton Waterfront with the U.S. Steamer "Spark" and Whampoa Anchorage with American, British and Danish Shipping. These watercolors also illustrate the diversity of countries trading in China, particularly in the former work, with the flags of the American, British, French and Danish nations displayed prominently along the skyline. Above all, Tingqua's work is perhaps most recognized for its exquisite characterization of daily life and for its exceptional detail. The precision of the brushwork and concentration upon light effects is superb, and in each scene the importance of world trade with China is beautifully displayed.
---
We Also Recommend