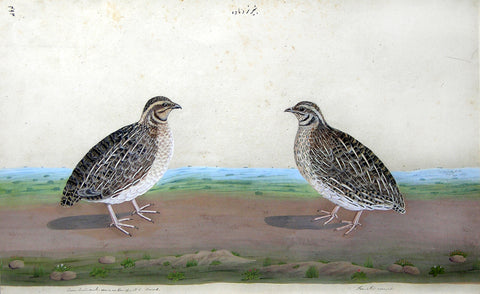 The Lucknow School, A Pair of Jungle Bush-Quail (Perdicula asiatica)
The Lucknow School
A Pair of Jungle Bush-Quail (Perdicula asiatica)
Inscribed in Urdu: upper right and center
Paper size: 11 x 18 in.
Pen and Ink with bodycolor, fixative
Provenance: Claude Martin (1735-1800), Lucknow
Lucknow, India circa 1775-1785

The jungle bush-quail is found on dry grass and scrub jungle, and occurs only in the Indian subcontinent and Sri Lanka. The male is depicted with striped (or barred) underparts, while the female displays buff underparts.


By the late 18th-century, many Mughal-trained painters in India looked to the emerging British ruling class for patronage. The products of the Lucknow School, based in Lucknow, India, were often albums of flora, fauna, and other exotic sights of India, made to be taken back to Britain. Of the varied subjects, bird studies were a classic type. Paintings of birds, animals, and flowers had been a dominant genre in Indian art since the time of the Mughal emperor Jahangir (1605–27), and the continuation of such subjects under British patronage was a natural extension of that established tradition. However, the results were often quite different stylistically.

In the second half of the 18th-century, the East India Company's English governing elite started commissioning Indian artists to paint subjects of interest to them. The themes related to India's foreign lavish lifestyle, their houses and possessions, botanical and zoological studies, and Indians in their typical dresses pursuing their crafts and professions. This type of work is called Company art. The British elite in India generally adopted an extravagant lifestyle that could be cultured and indulgent. They spent heavily on houses, horses, books, music, and pictures.

Indian painting and Indian art were patronized, most notably by Warren Hastings, governor, and governor-general of Bengal from 1772. Women also became connoisseurs. Mary Impey, the wife of Elijah Impey, chief justice of Fort William, Bengal, from 1773 to 1783, commissioned beautiful drawings of Indian natural history. Margaret Benn-Walsh moved to India to join her father and brother in 1776, delighted in north Indian songs, setting them in Western musical notation as "Hindostannie airs." Those members of this elite who survived aimed to return to live in England or Scotland (which won a stake in Indian service early in the century), at least in the style of affluent gentry.
Please feel free to contact us with questions by phone at 215.735.8811,
or by email at
loricohen@aradergalleries.com
---
We Also Recommend