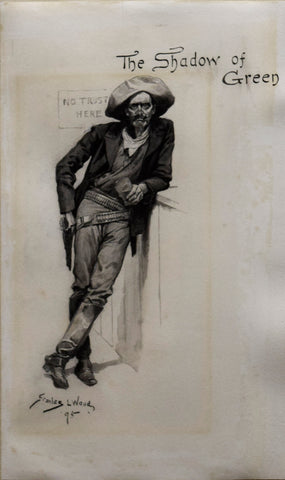 Stanley Llewellyn Wood (1866-1928), The Shadow of Green. No Trust Here
Stanley Llewellyn Wood (1866-1928)
The Shadow of Green. No Trust Here
1895
Pencil on paper Signed lower left: Stanley L Wood/95
Image size: 9x5"
Frame size: 16 3/4 x 22 1/2"

Stanley Llewellyn Wood (1866 - 1928), a Victorian English illustrator, made a name for himself through his prolific paintings featuring scenes from the American West and images of horses in action that were widely published in boys' adventure stories.

While residing in England, the artist joined the London publishing firm of Chatto & Windus as an in-house illustrator. His work was exhibited at local galleries, while seven of his mostly military themed works eventually hung at the Royal Academy.

In 1888, the Illustrated London News sent Wood to South Dakota where he became inspired by life in the American West. His works reflected his new environment, and he depicted scenes with a Cowboy and Indian flavor. These images were eventually published in Harper's, which spread them to the public.

Bookdealer Jefferson Chenoweth Dykes, better known as Jeff Dykes, wrote in Fifty Great Western Illustrators that "no better horse artist ever lived than Stanley L. Wood - there was more action in a Stanley Wood illustration than in the story itself.

Wood's illustrations were published in countless books. For example, Bertram Mitford's The Gun Runner (1893), The Luck of Gerald Ridgeley (1894), The Curse of Clement Wayneflete (1894), Renshaw Fanning's Quest (1894), The King's Assegai (1894), A Veldt Official (1895) and The Expiation of Wynne Palisser (1896).

His illustrations of the Anglo-Boer War appeared in the British illustrated weekly periodical Black &. White and Black & White Budget. During WWI, he worked for the War Illustrated, a British war magazine published in London.
---
We Also Recommend