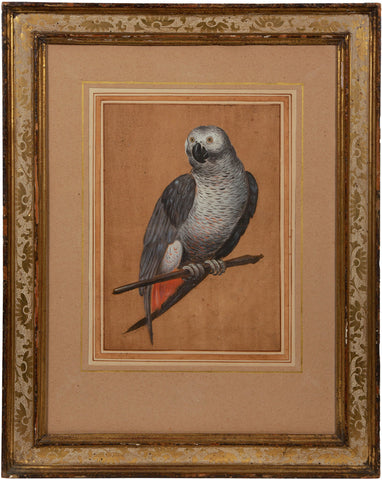 SEVENTEENTH-CENTURY ITALIAN, Grey Parrot Psittacus Erithacus L. 1758 [An African Grey Parrot (Psittacus erithacus)]
SEVENTEENTH-CENTURY ITALIAN 
Grey Parrot Psittacus Erithacus L. 1758 [An African Grey Parrot (Psittacus erithacus)] 
Watercolor and gouache over black chalk on buff prepared paper 
Paper size approx: 13 3/4 x 9 1/2 in. 
Provenance: 
Cassiano dal Pozzo (1588-1657) or possibly his younger brother Carlo Antonio 
By descent, as part of the 'Museo Cartaceo' to Gabriele dal Pozzo 
By descent to his son Cosimo Antonio dal Pozzo 
Bought in 1703 by Pope Clement XI 
Bought in 1714 by his nephew Cardinal Alessandro Albani 
Bought in 1762 for King George III by James Adam 
In the Royal Collection in Buckingham House and, from 1834, at Windsor Castle, from where dispersed 
Stefan Pollak Collection 

Exhibited: 
London, The Matthiesen Gallery, Birds and Beasts, 29 May – 4 July 1953, no. 103, as by Giovanni Pozzuoli 

Literature: 
Henrietta McBurney, Ian Rolfe, Caterina Napoleone, Paula Findlen, Birds, Other Animals and Natural Curiosities (Paper Museum of Cassiano Dal Pozzo. Series B: Natural History), 2017. 
The bird is identifiable from its coloring as an accidental variation of African Grey parrot. The pink flecking of the lower breast indicates an individual marking, perhaps caused by a deficient diet or genetic pigmentation alteration. 

This bird may be the one mentioned by Giovanni Pietro Olina in the rare work Uccelliera, overo, Discorso della natura, e proprieta di diversi uccelli (1622), which was written (or ghost-written) at the behest of, and with the support of Cassiano dal Pozzo who worked under Pope Urbano VIII. He wrote: 

The grey species [of parrot] with a red tail which comes from Mina, the city of St. George, in India [Castle of Elmina, Ghana]. Cavaliere Cassiano dal Pozzo owns a very rare type of this which is a light silvery grey, flecked all over with pink feathers, with a tail of lighter shade of the same pink. These have little ability for human speech, but very ably imitate sounds of animals such as cats, dogs, hens, etc. (Olina, 1622, fol. 24) 

The species would have come from West Africa, where it is still common, though reduced in number because of trapping for commercial purposes. Olina's reference to Mina derives from Gesner (1551-8, III, p. 691), who notes, "These parrots are said to be brought from the town of Mina of St. George." The birds may have been brought back from Africa by Arab merchants. 

The present drawing formed part of one of the most remarkable collections ever assembled, the Paper Museum, or Museo Cartaceo, of the dal Pozzo family. Cassiano dal Pozzo was one of the leading patrons of seventeenth-century Italy, and in his Paper Museum, he attempted to chronicle the classical and natural world in thousands of drawings. 
Former curator of prints and drawings in the Royal Library, Henrietta McBurney, who has studied the present drawing in the original, notes that it is on a George III mount and that it formed part of the Royal Collection at Windsor Castle, having been acquired by George III in 1762. The sheet is laid down on D&C Blauw paper, the same as was used to back many of the Cassiano drawings at Windsor when they were remounted by George's librarian Richard Dalton. 

Compared to other drawings of birds from the Paper Museum, the parrot in the present work is unusually pictorial and expressive. The illustrations that Cassiano commissioned from various artists for his ornithological treatise Uccelleria, or The Aviary, were generally more analytical in conception and stiffer in execution with the birds set parallel to the picture plane. For this reason, McBurney believes that the present drawing is unlikely to have been a Cassiano commission but rather an acquisition by Cassiano himself or possibly his young brother Carlo Antonio who shared Cassiano's passion for ornithology. After Cassiano's death, Carlo Antonio inherited the Paper Museum and continued to add to the collection. 
Please feel free to contact us with questions by phone at 215.735.8811,
or by email at loricohen@aradergalleries.com 
---
We Also Recommend