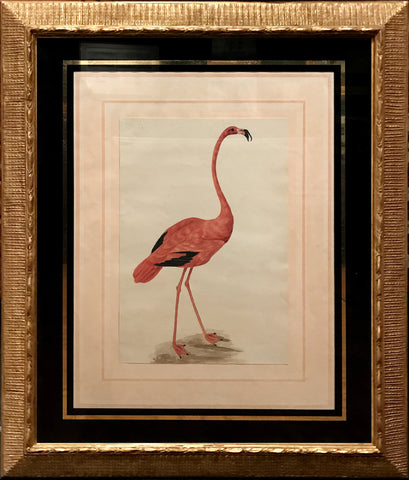 Sarah Stone (British, c. 1760-1844), Flamingo
Sarah Stone (British, c. 1760-1844)
Flamingo
c. 1785
Watercolor on paper
Sheet size: 14 1/8" x 9 7/8"
Frame: 28" x 24"
Sarah Stone was an esteemed British natural history painter, and one of the few women painters working in her time. Her name is synonymous with the Lever Museum (also known as the Leicester House), a major cultural institution of 18th century London. Its owner, Sir Ashton Lever, employed Stone to record specimens and ethnographic material brought back by British expeditions to Australia, the Americas, Africa and the Far East in the 1780s and 1790s, the most significant of which included Captain Cook's round-the-world voyages.
While Stone painted all of her subjects with a keen eye, it was thought that her drawings of birds in particular showed a considerable amount of technical skill. This virtuosity is exemplified in the present portrait of a green parrot, with its delicate brushwork and mesmerizing colors. The work has a brilliance and sheen that hardly reads as if it dates from the 18th century. The bird perches on a branch that recedes into the background, and gazes serenely back at the viewer; its plumage is an exquisite blend of orange, yellow, green, and blue.  While Stone often provided tree branches as part of her backgrounds, as we see in this fine example, the branches are distinctive and one of the features by which her paintings may be recognized. Nearly always they are depicted as pale grey or silver, like a silver birch bark, with a little lichen very delicately traced. 
Stone was mostly self-taught, though she learned fine and accurate coloring skills from her father, who was a fan painter. As a child, Stone was taught to use local and even household ingredients for her pigments - brickdust, or the juice of leaves or flower petals. Later in life, this understanding helped her select the colors with which she painted, prompting her to work with colors that she considered permanent, such as Chinese white, ivory black, burnt sienna, Vandyke brown, yellow ochre, chrome lemon and yellow, light orange cadmium, vermilion, carmine, madder lake, Veronese green, sap green, cobalt, ultramarine and Prussian blue.
Although only about 900 of Stone's paintings exist today, they were often requested to be engraved for illustrations in natural history publications. By 1789, Stone was well known in London both to the public who visited the famous Lever museum as well as to the experts of the day who were interested in natural history and everything to do with the voyages of Captain Cook.
Today, Stone's paintings not only serve as aesthetically beautiful works of art, but also as important records of specimens used by naturalists in the age of Linnaeus, some of which are now extinct. This example is an extraordinary opportunity for a collector to own an original work by this renowned artist.
---
We Also Recommend