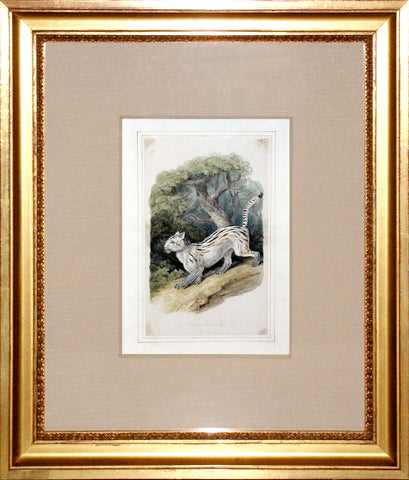 Samuel Howitt (British, 1765-1822) Felis Colocolo
Samuel Howitt (British, 1765-1822)
Felis Colocolo
Watercolor and pencil on paper
Signed 'Howitt' l.r.
Paper size: 7 1/2 x 4 1/4 in
Frame size: 17 x 14 1/2 in
Provenance: Collection of Walter Faulkes, Fearnley Hall.
A country gentleman from Chigwell, in Essex, Samuel Howitt's entry into the world of art was prompted as a means of meeting financial obligations which he incurred as a result of his carefree nature.  In reaction to his solid Quaker upbringing, Howitt was an active participant in the thriving London social scene of gambling, hunting, fishing, and sporting.  He could often be found making the rounds of London's drinking houses with his brother-in-law, the noted caricaturist, and watercolorist, Thomas Rowlandson.  His marriage to Rowlandson's sister was not a success and apparently his passion for fishing and sporting excursions led to their separation.

Howitt's initial artistic efforts were somewhat crude, but his natural talents quickly and skillfully progressed to a remarkable degree. Some of his individual works were exhibited at the Royal Academy between 1783 and 1815.  His quick fretted outlines, which were then washed in, reflect the influence of Rowlandson.  He was prolific in oil and watercolor, and as a printmaker and his lighthearted, boisterous works appeared in numerous sporting and other publications.  In 1808 he provided illustrations for The Angler's Manual.  In 1812, 70 of his illustrations appeared in the British Sportsman, and later a large group appeared in The Old Sporting Magazine.  

However, Howitt's best-known work is Oriental Field Sports, a collection of 40 attractive and dramatic aquatints drawn by Howitt after the original sketches of his friend Captain Thomas Williamson.  The main purpose of the book was the explication and illustration of the excitement and peculiarities of Indian game hunting, both big and small.  Williamson had explored the innermost regions of Bengal in search of the exotic Asian prize and from his sketches, Howitt produced some of the most prized images of big-game hunting.

His habit of drawing animals from life at the Tower of London was the basis of the 1811 A New Work of Animals, 56 carefully executed designs based on the fables of Aesop. It is likely that the Tower of London was also the source for many of the watercolors of animals and birds here presented, although the notation of Bullock on some would indicate that he also used specimens from this renowned dealer in animal skins.  

The companion album to the collection is now in London's Natural History Museum and forms part of the holdings of the famed banker, Baron Rothschild of Tring.  Rothschild was a keen amateur scientist and from the age of seven started collecting specimens.  He founded the Zoological Museum at Tring, opening it to the public in 1892.  Moreover, he wrote several articles on ornithology and held distinguished positions as Trustee of the Natural History Museum, Chairman of the British Ornithologists' Club (1913-1918) and President of the British Ornithologist's Union (1923-1928).  

It is not certain as to when the two albums of Howitt's drawings were divided and thus difficult to establish a definite provenance to the Rothschild collection for the set pictured here.  However, they are fine examples of the work of one of the leading natural history painters of the late eighteenth and early nineteenth centuries.
---
We Also Recommend