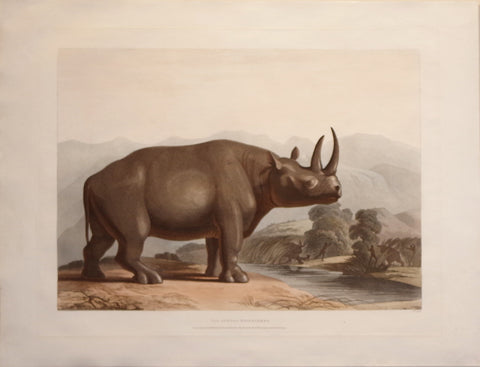 Samuel Daniell (1775-1811), The African Rhinoceros
Samuel Daniell (1775-1811)
The African Rhinoceros
from African Scenery and Animals at the Cape of Good Hope
Published in London, 1804-1805
Hand colored aquatint plates by Samuel and William Daniell
Paper size: approx. 18 x 24"
When, in October 1801, Samuel Daniell embarked with Petrus Johannes Truter, William Somerville and other Dutch and British explorers on their famous expedition to South Africa, they were leaving behind them a war-torn Europe.
Napoleon, taking advantage of the confusion and power-vacuum created by the fall of the French monarchy after the revolution, had seized control of France and crowned himself emperor. The British, in an effort to fight this increasingly threatening force led a counter-coalition of several other European countries, including Austria. But by Feb 1801, with the Treaty of Luneville, the mighty coalition had suffered two major defeats against Napoleon.
The Truter-Somerville expedition, a joint Dutch-British project, is an instance of these on going European politics, showing both a new British interest for the recently acquired colony and a lingering Dutch influence, devoid of any animosity however, as both nations shared a common enemy, France. Samuel Daniell, engaged at the young age of 27 as secretary and draughtsman of the expedition, thus brought back home to England the very first illustrations of a new colony and almost virgin land.
The 'Hippopotamus' and 'Rhinoceros' are masterpieces, the most strikingly three dimensional and life-like aquatints of the collection, but the fiery 'Gnu' and startled 'Springbok' come close second, displaying splendid movement and grace; with the village scenes like 'Korahs preparing to remove', Daniell brings us precious anthropological cues to a now lost culture. But it is perhaps in the fine lines of his landscapes, with the detail of interlacing jungle branches and rippling streams that Daniell truly succeeds in capturing a piece of the quiet and magic beauty of wilderness.
The younger brother of William Daniell and the nephew of Thomas Daniell, two famous British landscape painters, Samuel is the lesser known of the three, perhaps because of his premature death, but scholars like Thomas Sutton deem him the most 'inspired'-the included examples will easily convince anyone of his extreme refinement and sensitivity.
---
We Also Recommend