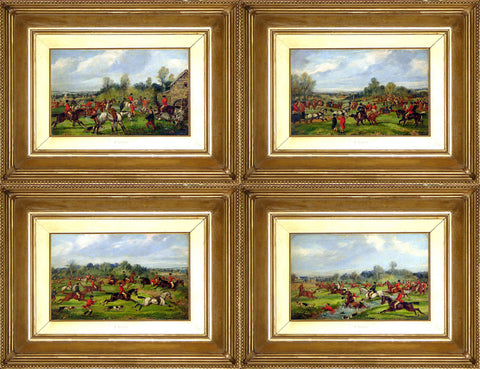 Samuel Alken Jr. (1784 - Ca. 1825), A Set of 4: The Meet; Taking the Fence; Crossing the Brook; Gone to Ground
Samuel Alken Jr. (1784 - Ca. 1825)
A Set of 4: The Meet; Taking the Fence; Crossing the Brook; Gone to Ground
Oil on panel
Panel size: 7" x 10"; frame size: 13 3/4" x 17 1/4"
One signed l.l.: ALKEN
In this superb set of four oils Samuel Alken Junior ably captures the excitement and speed of the chase.   By the end of the eighteenth century, the sport of fox-hunting, once the reserve of wealthy landowners, was increasingly syndicated and financed by subscription. The demand for hunting pictures was at its highest and painters found ready employment in this field.
The demand was fuelled by two factors: the British love of informal portraiture and to capture the thrill of the hunt.  Most huntsmen invariably found the greatest pleasure in the recollection of their adventures and rarely found time to savor enjoyment while the hunt was on.  The speed of the hounds predictably meant that others missed the most exciting moments, while they searched for gates rather than risked jumping over fences! Indeed Siegfied Sassoon was to write, in his hilarious Memoirs of a Fox-hunting Man, "Had I told the truth, I'd have said that during the gallop I was flustered, uncomfortable and out of breath; that at every fence we jumped I was all over the saddle; and that for all I had known, there might have been no hounds at all, since they were always a couple of fields ahead of us." Sporting paintings provided a record of the huntsman and his adventures and, while they rarely dwelt upon death, conveyed the excitement of the chase when the season began on September 1st of every year.
Samuel Alken Junior was a member of one of the most prominent families of sporting artists working in late eighteenth and early nineteenth-century Britain.  Of Danish origin, Samuel Alken Senior (1750 - 1815) was the founder of the family tradition.  He built his own artistic career by engraving hunting and sporting landscapes in the manner of Stubbs.  His prodigious fame was based upon his mastery of the quintessential British subject: the hunt. 
It is probable that Samuel Alken Junior, like his brother Henry (1785 - 1851) received his artistic training from his father.  Samuel Junior excelled at painting in oil and, like his brother and father, concentrated his career upon the sporting genre.
---
We Also Recommend