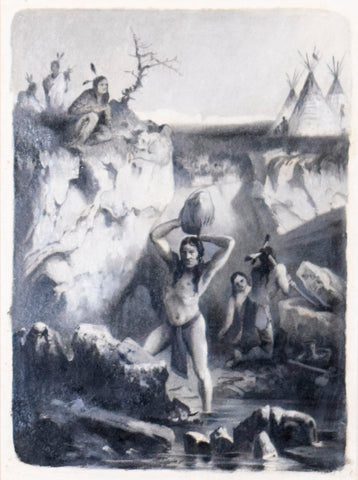 Rudolf Cronau (German, 1855-1939), Yankton Indians at the Pipestone Quarry
Rudolf Cronau (German, 1855-1939)
Yankton Indians at the Pipestone Quarry
Grisaille oil on board
Signed l.l.: Rud Cronau
Image size: 10 x 7 1/2"
Frame size: 20 x 17 1/2"
This atmospheric painting is of Pipestone Quarry, located in southwest Minnesota. It is named for the red stone (catlinite) that has been quarried there for centuries by native people, including the Lakota, Dakota and Yankton Sioux. For centuries, tribes have gathered at the pipestone quarry to obtain the smooth rock they use to make pipes. The area was a neutral zone, where different groups came together in peace. As related by the explorer and artist George Catlin, the Great Spirit declared that the "…red stone was their flesh, that they were made from it, that they must all smoke to him through it, that they must use it for nothing but pipes--and as it belonged to all tribes, the ground was sacred, and no weapons must be used or brought upon it."
Although the land around the Pipestone Quarry had been acquired by the United States in the Louisiana Purchase of 1803, the eastern Sioux tribes were firmly established there and they controlled access to the quarries. Westward expansion and subsequent land ownership by the multitudes of whites who were settling in Minnesota resulted in two treaties that significantly impacted control over the pipestone quarries. The 1858 Treaty of Wash¬ington DC promised to keep the quarry open to Yankton "so long as they shall desire" but they had to give up 11 million acres in return for a reservation of 430,000 acres and some land surrounding the quarry.
In spite of the treaty, the 1870s saw a series of encroachments by white settlers. Though the Yankton's rights were affirmed in the beginning, enforcement was lax due to legal battles and administrative delays. The Yankton were outraged when, in 1890 and 1891, plans were unveiled to build a railroad and an Indian school for other tribes on the quarry land. After a series of stalled negotiations, the Yankton finally came to an agreement with the government. Under the terms of the Deficiency Appropriation Act of March 4, 1929, the government agreed to protect the area and allow the Yankton to use the quarry. The tribe received reparations in the amount of $328,558.90 and this cleared the way for the establishment of Pipestone National Monument in 1937.

---
We Also Recommend