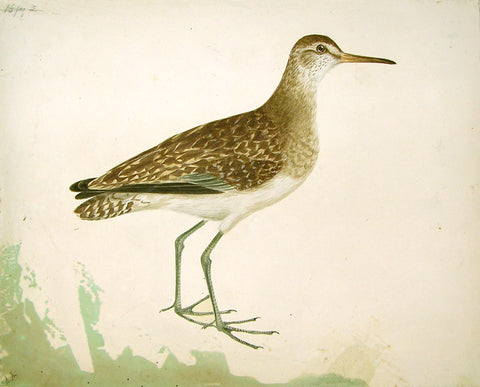 ROBERT MITFORD (BRITISH, 1781-1870), "Wood Sandpiper"
ROBERT MITFORD (BRITISH, 1781-1870)
"Wood Sandpiper"
Preparatory work for Prideaux John Selby's Plate 16 of Illustrations of British Ornithology
Watercolor, gouache, grey and brown washes, pen and black ink on paper
Inscribed upper left: 16 fy 2
Signed lower left: R.M.
Paper size: 10 3/8 x 8 1/8 in.

Selby's description of the Wood Sandpiper is as follows: "This species is also an occasional but a very rare vi sitant ; a solitary straggler being now and then driven as far to the westward as the longitude of our islands during the periodical migration of the species from the northern to the more southern districts of Europe. The short specific descriptions given by LINNAEUS of these two nearly allied birds, and their rare occurrence in Britain, without doubt induced Dr LATHAM and others (as mentioned in the preceding account of the Green Sandpiper) to think that they might be identical. His description, however, of the present bird, in his Index Ornithologicus, ought to have satisfied him that it could not be the Tringa Aldrovandi of RAY and WILLOUGHBY, quoted as a synonym of Ochropus (and with great propriety, as it answers exactly to it) ; for he describes Glareola as having " remiges fuscae, rachi nivea, secundariae apices margine alba,bcharacters which are correct, and very distinctive of the species. MONTAGU, in his Ornithological Dictionary, has so accurately described each from personal inspection, as to render mistake, or a confusion of the species, almost impossible for any one who is enabled to compare his descriptions with the specimens of these birds. He has, however, in his Appendix to the Supplement of the same work, created some unnecessary confusion by rejecting the Linnean specific appellation of Glareola altogether, and imposing in its place the new title of Tringa Gr dilator is (Long-legged Sandpiper) ; which confusion is still further increased by Mr STEPHENS, in his Continuation of SHAW'S Zoology, giving both the Glareola of LINNAEUS, and Grallatoris of MONTAGU as distinct species. In size, this bird is fully one-third less than the Ochropus with the legs much longer in proportion; the tarsi of the former being one- eighth of an inch longer than those of the latter, and the naked part of the tibia is considerably longer. In addition to the specimens recorded by MONTAGU and others, I can mention a beautiful one of the young bird, killed at Ellingham in the month of September 1828 (now in my collection, and a description of which is given below); a second, killed at Prestwick Car in 1830, and now in the museum of the Natural History Society of Newcastle-upon-Tyne; and a third, shot at White-mare Pool, in the county of Durham, and now in the possession of Mr EDWARD BACKHOUSE.

It is a native of the interior of Continental Europe, and has a wide geographical distribution, being found in India; and I have specimens also from the Cape of Good Hope. Moist woods and swamps producing willows and other brush- wood are its favourite habitats, where it lives solitary, or, in the breeding season, in pairs. It retires within the Arctic Nest, &c. circle to breed, and its nest is made by the side of some rill or pool. The eggs, four in number, are said to be of a yellowish or oil-green colour, spotted with brown. It feeds on worms and insects.

PLATE 16. Fig. 3. Represents the Wood Sandpiper of the natural size. Between the bill and eyes is a dark hair-brown streak. General Crown of the head, back, and wings, are hair-brown, with a tinge of grey, but no gloss of green. Margins of the dorsal and scapular feathers, and also the wing-coverts, are marked with small white and greyish-white spots. The secondaries are margined and tipped with white. The greater quills are hair-brown, the first one having a white shaft. Nape of the neck, cheeks, sides of the breast, and the flanks are greyish- white, with hair-brown rays. Eyelids, throat, belly, and abdomen white. The lower part of the back is blackish-grey, having the feathers finely margined with white. Rump and upper tail-coverts white ; the latter with a brown streak down their shafts. Tail white, barred with hair-brown; the outer feathers having their inner webs pure white. The wings, when closed, reach to the end of the tail. The bill is black, with a green tinge towards the base. Legs and toes greenish-grey.

In the summer plumage, the spots of white upon the back and wing-coverts are larger and purer in colour, and the scapulars are obscurely barred with a deeper shade of hair-brown."

Prideaux John Selby (British, 1788-1867)
Considered by many as the English equivalent of Audubon, Prideaux John Selby created some of the most memorable bird images of the nineteenth-century. His contributions to British ornithology were rivaled only by those of John Gould. Yet, his pictures were larger and less purely scientific, exhibiting Selby's distinctive and charming style. A sense of Selby's enthusiasm for his subjects is nowhere more palpable than in his engaging original watercolors. Selby executed these delightful images as preparatory models for his landmark printed series, Illustrations of British Ornithology. While the artist's engraved work is highly desirable to collectors, Selby's original watercolors rarely become available. This selection of watercolors, moreover, comprises several of his masterpieces. The distinctive birds are depicted in profile, their forms delineated by softly modulated tones of black and gray wash. The setting, if present, is lightly but skillfully painted to not distract from the birds themselves. The skill and delicacy of Selby's touch, his keen powers of observation, and his artistic sensitivity are conveyed here in a way they are not in his printed work. Several of the drawings are by Selby's brother-in-law, Robert Mitford, but signed in Selby's hand. 

Born in Northumberland and educated at University College, Oxford, Selby was a landowner and squire with ample time to devote to studying the plant and animal life at his country estate, Twizell House. As a boy, he had studied the habits of local birds, drawn them, and learned how to preserve and set up specimens. Later, Selby became an active member of several British natural history societies and contributed many articles to their journals. Although Selby was interested in botany and produced a History of British Trees in 1842, he is best known for his Illustrations of British Ornithology. Selby's work was the first attempt to create a set of life-sized illustrations of British birds, remarkable for their naturalism and the delicacy of their execution. The British Ornithology was issued in nineteen parts over thirteen years; the book consisted of 89 plates of land birds and 129 plates of water birds, engraved by William Lizars of Edinburgh, the printer who engraved the first ten plates of Audubon's Birds of America.

With their rich detail and tonal range, these exquisite watercolors are beautiful works by one of the foremost British bird painters. Furthermore, they represent a singular opportunity to obtain a unique piece of the highest quality by this luminary artist, from an era in British ornithological art that remains unparalleled. 
Please feel free to contact us with questions by phone at 215.735.8811,
or by email at 
loricohen@aradergalleries.com
---
We Also Recommend